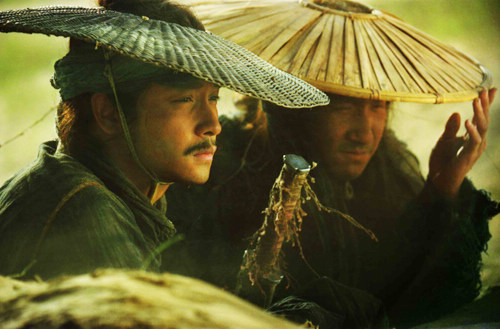 EPIC MOVIE: The restored version of Ashes of Time, a romantic and dream-like martial arts epic directed by Hong Kong director Wong Kar-wai, was screened in 2009. Legendary Hong Kong actor Leslie Cheung (left) starred in the film (CFP)
The elaborately restored version of the classic film Metropolis, directed by Fritz Lang in 1927, held its Beijing premiere on September 2. While attracting classic movie lovers into the theaters, Metropolis also called attention to the large number of old Chinese films housed in film archives, which, out of sight and out of reach of moviegoers, are decaying.
But measures have been taken to address the problem amidst China's movie industry boom.
The restored version of A Chinese Ghost Story was screened on the Chinese mainland in April this year, following the return of Ashes of Time, which was considered a classic romance by famous Hong Kong director Wong Kar-wai in 1994 and restored twice in 2008 and 2009.
In addition, a plan of restoring 10 classic Chinese films was launched during the 14th Shanghai International Movie Festival in June.
"Classic films are restored for moviegoers to have a chance to see them, which is the only purpose of the work," said Zuo Ying, deputy head of the technology department of the China Film Archive (CFA).
Examples are numerous. Programs are launched. But given the huge number of old films in critical conditions, old film restoration faces many challenges aside from the lack of fund.
Many classic Chinese movies, which have impressed and moved several generations, are in fatal conditions now. Saving these films through restoration has never been more urgent.
The CFA has collected 27,000 to 28,000 films, the most in China. One third of those films were shot before 1949.
Films shot before and after 1958 are in different conditions at the CFA. While those shot after 1958 are well kept under a constant temperature of about five degrees Celsius, those shot before 1958 are in very critical conditions with flaws and damage because "they have been shown too many times before being collected by the CFA," said Zuo.
For instance, the original film for the famous movie Song of the Fishermen, which was screened in 1934, was destroyed during the war and its only copy has deteriorated beyond repair, Zuo said.
China began the film restoration in the 1970s and has never stopped such efforts since then.
Most flammable films were transferred onto safer materials during a large-scale restoration in the 1980s.
"Most films from the 1930s and 1940s were made of flammable materials and can easily catch fire when temperatures rise too much," said Li Yu, deputy head of CFA's research department. "It was very common that those films were destroyed by fire at that time. Also, they would get moldy and be fragile as time passed."
The CFA started to transfer older films into digital ones in the 1990s. CFA initiated a huge plan to digitalize 5,000 old films with 280 million yuan ($43.75 million) of government funds.
Usually film restoration is carried on digital copy instead of on original copy.
"It's because original copies of films are cultural heritages and any repair effort will cause damage to them, while a digital copy allows correction if mistakes are made during the repair," said Zuo.
Moviegoers were beside themselves with excitement in theaters in April when the theme song of a repaired 1987 movie, A Chinese Ghost Story, triggered their memory of the movie and the hero, starred by gifted Hong Kong actor Leslie Cheung.
"The restoration of the movie cost at least 2 million yuan ($312,500)," said the movie's investor Wu Siyuan. "It could cost more if you want to restore it to a very good condition."
The restoration cost for old films depends on the expectation of restorers. For instance, the cost of Snow White restoration in the United States reached $3 million. The cost mostly came from buying restoration equipment and hiring high-caliber restoration personnel.
The cost varies from tens of thousands of yuan to millions of yuan depending on the extent of damage, said Zuo.