MISSION RECOGNITION: Chinese peacekeepers perform at a medal-conferring ceremony at their camp in southern Lebanon on September 13. All 335 members of the detachment received UN medals (XINHUA)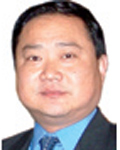 The Asian Society of International Law held its third biennial conference in Beijing in late August. More than 300 officials and scholars attended this event. The conference served as a significant platform through which Chinese international law experts made their voices heard across Asia and those in Asia made their voices heard across the world.
Following the end of the Cold War, international law went through the most significant changes since the adoption of the Peace of Westphalia (1648)—a series of international treaties that ended decades of war in Europe. China's contributions to making contemporary international law as well as its enforcement are remarkable.
Western countries had long dominated the formulation of international law. This situation lasted until the 1950s, when the Five Principles of Peaceful Coexistence—mutual respect for sovereignty and territorial integrity, mutual non-aggression, non-interference in each other's internal affairs, equality and mutual benefit, and peaceful coexistence—advocated by China, India, Myanmar and other countries were accepted as an essential part of the basic principles of modern international law. Thus a legal foundation was laid for developing international relations based on equality and democracy.
During the law-making processes, China expressed its opinions on a host of major issues, including state responsibility, the legal status of the Arctic, the jurisdiction of the International Criminal Court, humanitarian intervention and the responsibility to protect.
In particular, when the world was debating whether Kosovo's unilateral declaration of independence in 2008 was against international law, the Chinese Government for the first time sent a delegation to the International Court of Justice. The delegation, through written submissions and oral statements, expounded China's position on the issue.
With these moves, China has exerted its influence over the establishment of the principles and rules of modern international law.
The International Law Commission established by the UN General Assembly in 1948 plays a leading role in the codification and development of international law. So far, a number of Chinese experts have served its chair and members. In addition, a number of Chinese international law scholars have been selected as members and associates of the Institute of International Law, a private organization devoted to the study and development of international law.
For decades, China has practiced international law in various areas, based on general international law and the UN Charter. It has provided financial support for many international organizations, especially the UN.
For example, of the five permanent members of the UN Security Council, China has sent the most peacekeeping staff. It has sent more than 21,000 peacekeepers to 30 UN peacekeeping missions. Eight service people and eight civilian police officers from China have fallen in the line of duty. China's contributions to peacekeeping have been highly praised by the UN and host countries.
So far, China is the only nuclear country that has publicly promised no first use of nuclear weapons and no use or threat of use of nuclear weapons against non-nuclear-weapon states or regions.
China has also played a prominent and constructive role in areas including arms control, disarmament, the peaceful settlement of international disputes, opposing the illegal use of force, environmental protection and human rights protection.
In addition, China has actively participated in international cooperation on counterterrorism and nuclear non-proliferation. It has sent rescue teams to countries hit by severe natural disasters. And it has dispatched naval escort fleets to the Gulf of Aden and waters off Somalia's coast.