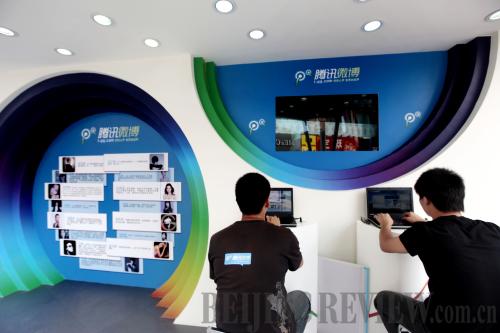 MICRO-BLOG SHOW: Two young people look at micro-blogs at a promotion campaign launched by Tencent, China's largest and most used Internet service portal (CFP)
Michelle TT Yang, Managing Director of Text 100 China, has found that convincing her old clients accept social media is becoming easier and easier. U.S.-based Text 100 is a global top 20 public relations (PR) consultancy.
"Things began to change two years ago. Between 2008 and 2009, we started a campaign to teach clients about the importance and benefits social media can provide," Yang said.
China has its own versions of popular social media sites of U.S. origin: Its equivalents of YouTube are Tudou and Youku; Facebook is Renren and Kaixin; and Twitter is Sina Weibo. Weibo means micro-blogging.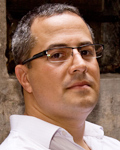 Jeremy Woolf, Senior Vice President of Text 100

"Companies increasingly need to think about social media as part of their communication programs," Jeremy Woolf, Senior Vice President of Text 100.

"Weibo does have a magical power in marketing," said Pan Shiyi, Chairman of SOHO China Ltd., a real estate developer.

"I never thought that a post with only 100 Chinese characters could produce this kind of market effect," said Pan.

He posted a message on his Weibo in July 2010, saying he would give the first follower to reply to his message a free cellphone. Within two days of the post, his followers almost doubled to 1.16 million.

Today Pan's micro-blog followers have jumped to more than 4 million.

In May 2011, Pan successfully auctioned off more than 10 houses on his micro-blog for a total turnover of 136 million yuan ($21.28 million).

The PR-social media combo has been and will continue to be the most dynamic sector in the whole PR industry, particularly in China, said Woolf.

The experiences of Pan and Yang have verified how social media have taken root and blossomed in China as well as its PR industry.

China's Internet population reached 485 million by June 2011, according to the China Internet Network Information Center (CNNIC).

The number of users of micro-blogs represented by Sina Weibo and Tencent Weibo had reached more than 195 million by June.

What is even more profound is the level of participation of Chinese Internet users in social media.

The latest CNNIC report indicates that 65.5 percent of netizens in China visit or manage their own blogs, and 47.4 percent have accounts on one or more social networking sites.

Social media are progressively becoming a crucial element in Chinese people's lives, allowing them to gain entry to social circles, said Andrea Fenn, a Shanghai-based member of Ogilvy's social media team. U.S.-based Ogilvy & Mather Group is the world's top advertising and PR company.

"Today social media have been included in the PR service package for almost 80 percent of our clients," Yang said. "The business revenue generated by social media service accounted for more than 40 percent of out total income," she said.

Woolf predicts that in three years the social media PR revenue in China would be the size of current Chinese PR market.

According to the China International Public Relations Association (CIPRA), China's PR industry scored an annual business revenue of 21 billion yuan ($3.29 billion) last year, 25 percent higher than the previous year.