MEGA PROJECT: An engineer uses a computer to manipulate oil extraction equipment at the Huizhou offshore oil and gas field complex in the South China Sea, which is operated by CACT Operators Group, comprising CNOOC, Eni and Chevron and has eight platforms (LIU DAWEI)
Project management certification is a relatively new trend in China, but already professional training courses on the discipline are expanding rapidly across the country.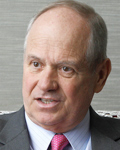 Craig Killough, Vice President of Project Management Institute (JIANG XIAOYING)
Since 1999 when the State Administration of Foreign Experts Affairs (SAFEA) and Project Management Institute (PMI) from the United States introduced project management professional certification in China, over 90,000 Chinese have taken the courses and about 53,000 of them have successfully obtained certification as of August 2011, according to Craig Killough, Vice President of PMI at the Second PMI Congress held in Beijing from September 16-17.
Currently, the number of Chinese project management professional credential holders is second only to the United States, accounting for nearly 10 percent of total holders worldwide. The number of Chinese certificate holders will grow at around 20-30 percent annually, said Bai Jixun, General Director of the Training Center of SAFEA at the congress.
The last decade has seen an explosion in project management in China as the economy continues to boom. An estimated 700,000 project management professionals are going to be needed across China every year for the foreseeable future, said Bob Chen, Manager Director of PMI China.
The demand mainly comes from four sources: multinational companies' operations in China, Chinese companies' overseas businesses, state-owned enterprises and the Chinese Government, which aims to transform the country from being manufacturing-oriented to service-oriented, said Chen.
"Considering the fact that the Chinese economy is becoming the fastest growing one in the world and represents a large number of people, the development of project management in China will be beyond comprehension," said Killough.
Project management is the discipline of planning, organizing, securing and managing resources to achieve specific goals. It is different from usual business management, which comprises repetitively permanent or semi-permanent functional activities that produce products or services. Therefore, project management usually requires the development of distinct technical skills and management strategies.
Since its early introduction, professional and senior management realized the advantages and benefits of project management to help them minimize project delays, reduce project costs, improve product and service quality, and utilize their technical resources.
According to Beth Partleton, Chair of the PMI Board of Directors, 41 percent of those organizations with a project management office will bring a project in on time and under budget, 67 percent will meet project goals or intent, and another 67 percent of organizations with these offices saw an increase in projects meeting goals.
Before the mid-1980s, there was virtually no project management in China, said Bai. The boom for project management in China came about after large construction projects kicked off following the reform and opening-up policy implemented in 1978.
Official data showed that in the first decade of this century, China spent more than 30 trillion yuan ($4.7 trillion) on infrastructure construction projects—projects that were completed successfully because of project management, said Bai.
For Bai, project management developed rapidly thanks to China's transition from a planned economy to a market economy.
"Under the planned economy, most companies and enterprises were not independent market entities and were not responsible for making profit. But a market economy requires every enterprise to make profit and be responsible for their own business operations. Otherwise, they could not survive," said Bai.