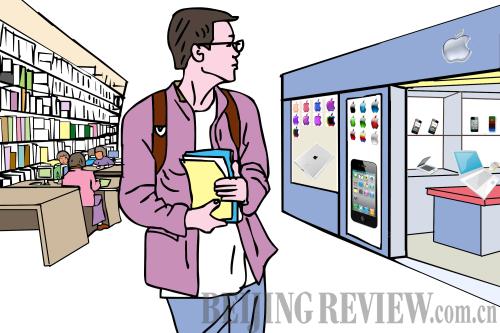 (LI SHIGONG)
Recently, students quietly studying in the library of Peking University (PKU) found that a new Apple showroom was under construction. The 40-square-meter showroom will be an exhibition hall for the latest products of Apple Inc.
As soon as the news was released, people, including PKU teachers and students, discussed heatedly whether it is appropriate to open an Apple showroom in a university's library and, moreover, whether universities should welcome commercial behavior on campuses.
As a matter of fact, PKU is not the first university questioned for its commercial behavior on campus. Not long ago, Nanjing University of Post and Telecommunications opened an Apple showroom in its library and the Communication University of China opened two coffee shops in its teaching buildings. More and more universities in China are warmly welcoming commercial behavior on their campuses.
Supporters of the phenomenon think PKU's cooperation with Apple can help more teachers and students know the latest information technology and help the library promote its digitization. Also, the ability to confront the commercial environment is a key competency for college students and they shouldn't avoid commercial behavior, but should welcome it and face it with a positive attitude.
On the other hand, opponents think an excessive commercial atmosphere will destroy the independent spirit of universities. Besides, PKU's decision of introducing an Apple showroom hasn't received approval from students and teachers, which runs counter to the university's longtime advocacy of freedom and democracy. PKU has no right to allocate public resources without holding a public hearing involving all concerned parties.
Lan Tianpeng (www.cnr.cn): The original purpose of opening a new Apple showroom in the library is giving more students a chance to experience the convenience that digitization can bring to their studies. They can learn lots of new technologies in the showroom. Before the Apple showroom, the PKU library built a showroom for students to experience electronic books by cooperating with other technology companies, which was warmly welcomed by students. This time, the showroom will not directly sell products to students but let them experience them. Therefore, the relationship between the library and the shop is not commercial.
Xin Zhong (Guangming Daily): Universities shouldn't be isolated places that exclude commercial behavior. In addition to teaching knowledge and cultivating academic talent, universities should also guide students to know the world, learn social protocol and teach them how to deal with others. A person's ability to cope with the stress from the commercial world has become a vital standard to judge his/her overall competency. Therefore, welcoming commercial behavior in universities is totally appropriate. Young students shouldn't deliberately avoid the commercial environment but should embrace it with a positive attitude.
Zhang Yahan (www.ccvic.com): Universities are a quiet and independent place for students to study rather than a commercial district for shopping and recreation. It's wrong for PKU to open an Apple showroom in its library.
First, the commercial atmosphere runs counter to the quiet academic atmosphere in the library. People visiting the showroom will inevitably disturb students studying near the showroom.
Second, the commercial atmosphere is not in accordance with the spirit of universities and might even do harm to PKU's image. As one of the best universities in China, PKU should set a good example for academic pursuit rather than excessively pursue commercial benefits on its campus.