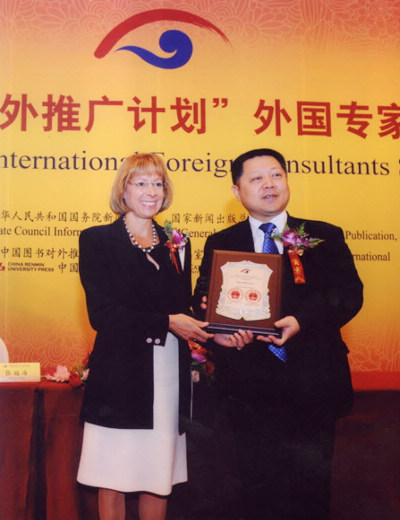 PUBLISHING COOPERATION: Nancy McKinstry, CEO of Wolters Kluwer, receives an official membership award from Wang Zhongwei, Vice Minister of China's State Council Information Office, on August 31, 2011. McKinstry was appointed as a foreign consultant, to promote the collaboration between Chinese and global publishers (COURTESY OF WOLTERS KLUWER)
There are many secrets that foreign companies need to know before starting businesses in China. Wolters Kluwer knows a few of them.
"You can never expect business success by introducing foreign products or services on an as-is basis in China. We need to provide something special to meet the demands of Chinese customers," said Shasha Chang, Wolters Kluwer China CEO.
"Localization has the final say in overseas success for multinationals like us," said Chang on September 22 in Beijing at the launch ceremony for Wolters Kluwer's latest product China Law & Reference, an online database that provides a bilingual reference of legislation and cases of the People's Republic of China.
Starting as a bookseller in the Netherlands more than 170 years ago, Wolters Kluwer specializes in providing products and services to professionals in the health, tax, accounting, financial services, legal and regulatory sectors.
Wolters Kluwer China was established in Beijing in 2009. The number of employees in the country has grown from just 30 to 300 today. Wolters Kluwer China's revenue grew by nearly 30 percent in 2010.
One of the biggest highlights of Wolters Kluwer's operation last year is its expanded global footprint through increased penetration into the global integrator product line in the corporate market and strong double-digit growth in China and India, according to the Wolters Kluwer 2010 Full-Year Results released in February 2011.
The pace of change in China is impressive and the growth potential of the Chinese market offers Wolters Kluwer opportunities for expansion, said Nancy McKinstry, CEO of Wolters Kluwer.
Wolters Kluwer has been serving professionals in the area of business law, tax, accounting and human resources in China since 1985. At that time, multinational legal publishers mainly targeted the English-speaking professional community in China.
But as the number of Chinese lawyers keeps growing, the professional community gradually prefers Chinese as the working language.
According to the Ministry of Justice, currently there are nearly 200,000 lawyers and 16,900 law firms in China. Wolters Kluwer expects that China will have 2 million lawyers by 2020.
"Since our entry into China, Wolters Kluwer has attached great importance to providing bilingual reference products," Chang said.
Wolters Kluwer has been translating English-Chinese legal and regulatory content for years and has won wide recognition among its clients for its high-quality translations, said Chang.
The recently released China Law & Reference is the result of Wolters Kluwer China's vigorous customer research initiative. Most importantly, it hosts all legislative sources in one central location in a concise manner, helping professionals to find the answers they need quickly.
"With more and more Chinese enterprises going global, the legal services for them have soared in recent years. Our product has superior bilingual content that professionals have come to rely upon," Chang said.
In addition to localization in content publishing, Wolters Kluwer is also committed to providing localized users' experience. The Web page design for China Law & Reference is quite different from similar products for Western users, said Li Jiang, Technology Director for Wolters Kluwer China CCH brand.
Western users want the page to be simple, but Chinese users like to have all important keys on the main page, Li said. "We are proud that 90 percent of Wolters Kluwer's staff are Chinese," said Chang.
Ovid, part of Wolters Kluwer Health and a global leader in the development and delivery of customizable research information solutions for the medical, scientific and academic markets, released its latest local language search portal, OvidChinese, in September 2011. OvidChinese allows healthcare practitioners, clinicians, students and researchers to search, browse and manage results of core Chinese-language medical content.