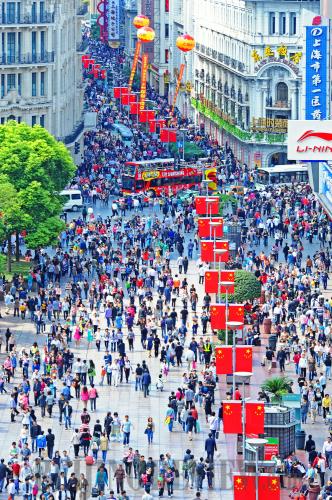 SHOPPING PARADISE: Shanghai's Nanjinglu Shopping Street on October 4. The city's consumer sales reached 23.2 billion yuan ($3.65 billion) between September 10 and October 7, a year-on-year increase of 17.1 percent (CFP)
The catering and hotel sectors attracted consumers with special offers. According to MOFCOM figures, sales value of catering and hotel sectors in the Tianjin Municipality and Shaanxi Province grew by 40 percent and 20 percent respectively. Sales revenue of monitored key catering enterprises in Anhui Province grew by 33.1 percent, and those in Liaoning Province and the cities of Chongqing, Chengdu and Nanning all grew by more than 18 percent.
During the National Day holiday, commodity prices were stable thanks to sufficient supplies, said the MOFCOM. According to the figures released by the ministry on the prices in 36 monitored large and medium-sized cities during the holiday week, compared with September 30, the average retail price of eggs dropped by 0.4 percent, the retail price of colza oil dropped by 0.1 percent, the price of peanut oil remained unchanged, while the price of soybean oil rose by 0.2 percent. The wholesale price of pork remained stable, while that of mutton and beef rose by 0.3 percent and 0.5 percent respectively. The wholesale price of 18 kinds of vegetables rose by 1.4 percent on average.
According to figures released by the National Holiday Tourism Inter-Ministerial Coordination Meeting, from October 1-7, the country received 302 million tourists, a year-on-year increase of 18.8 percent. The revenues totaled 145.8 billion yuan ($22.92 billion), growing 25.1 percent from last year. On average, each tourist spent 483 yuan ($75.94).
Of the total tourism revenues, the civil aviation sector gained 6.5 billion yuan ($1.02 billion), the railway sector gained 2.75 billion yuan ($432.39 million), the 39 monitored key cities gained 58.1 billion yuan ($9.14 billion), and other cities and tourist sites earned 78.4 billion yuan ($12.33 billion).
The 119 tourist sites incorporated in the national holiday tourism forecast system received altogether 24.33 million tourists, and the ticket revenues totaled 1.25 billion yuan ($196.54 million).
Liang Da, a senior statistician and columnist with Shanghai Securities News, said after more than 30 years of reform and opening up to the outside world, the Chinese people have accumulated some amount of wealth and, as their consumption concepts have changed, their purchasing power is being released.
Liang said according to international practices, when the per-capita GDP of a country surpasses $3,000, the country will be in a new round of economic growth. With both of the country's industrial and consumption structures changing greatly, the consumption capability will also be increased markedly.
In 2010 China's per-capita GDP reached $4,382, and in some large cities such as Shenzhen, Shanghai and Guangzhou, the per-capita GDP even surpassed $10,000.
According to Liang, the frugal character of Asian people makes the Chinese accumulate quite handsome wealth, offering huge potential to further expand consumption demand. From 1979 to 2010 the balance of renminbi deposits of urban and rural residents grew at an average annual rate of 25.5 percent. By the end of August 2011 Chinese people had deposited 32.7 trillion yuan ($5.14 trillion) in banks, with the per-capita deposit hitting 22,619 yuan ($3,556.45). In comparison, every American owes the bank $15,000.
"In recent years Chinese social security has developed rapidly, alleviating people's burden on education, health care and pension. If the government can formulate proper policies to further guide and encourage the people to expand consumption, it will significantly promote the growth of consumption demand," Liang said.
Since China began its reform and opening up in the late 1970s, consumption of durables by the Chinese people has increased fast. However, the absolute consumption volumes of some durables, such as cars and communication products, still fall behind those of developed countries and even some developing countries, with space of further growth.
Consumption of durables in rural areas is even lower than in urban areas. According to figures from the National Bureau of Statistics, by the end of 2010, every 100 rural families had 111.8 color TV sets, just 81.3 percent of the figure by urban families. Every 100 rural families had 57.3 washing machines and 136.5 mobile phones, about half of the figures by urban families. Among every 100 rural families there were only 10.4 personal computers, far lower than the number of 71.2 in urban areas.
"Compared with urban areas, there are even bigger spaces to increase consumption of durables, housing and apparels in the rural market," Liang said.