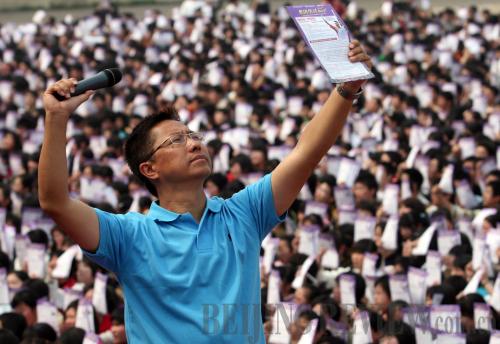 CRAZY TEACHER: Li Yang delivers a speech at a middle school in Anhui Province on March 19 (HU WEIGUO)
On August 31, a woman using the name "Mother of Lily, Lina and Lydia" posted a picture showing her swollen forehead on her micro-blog at Weibo, one of China's most popular social media sites.
The woman, whose real name is Kim Lee, is the American wife of Li Yang, who allegedly has helped more than 20 million Chinese learn English with his books, tapes and lectures.
In the text that accompanied the pictures, Kim claimed she was being abused by Li.
On September 1, Kim posted another picture this time showing swollen knees with the words, "Don't use violence toward me in front of our children."
The revelations attracted widespread publicity and Li was condemned by the media and ordinary Chinese people. The 42-year-old English teacher, Li, is best known for his special English teaching technique, which he named "Crazy English"—a popular method of language learning that involves yelling at the top of one's lungs. Many people were astonished at the news of Li's domestic violence.
"I cannot believe it," said netizen Helenwoo. "He even held some training classes to teach parents how to educate their children. Who could imagine he would beat his wife in front of his daughters?"
Kim continued to post pictures of the abuse she suffered. She also wrote messages asking Li to see a doctor. On September 4, Kim posted another picture of a bleeding left ear with the words "Li Yang, you need help."
On September 5, Kim posted the details of the abuse she suffered. "You knocked me to the floor. You sat on my back. You choked my neck with both hands and slammed my head into the floor. When I pried your hands from my neck you grabbed my hair and slammed my head into the floor 10 more times!" she said.
Li didn't respond to his wife's accusations against him until September 10, when he apologized on his micro-blog. "I wholeheartedly apologize to my wife Kim and my girls for committing domestic violence. This has caused them serious physical and mental damage," he said.
In another post on the same day, Li revealed he was accepting medical aid to help him overcome his abusive tendencies.
"We are good couple in most of the time," Li said in an interview with Sina, a popular Web portal. "It is like I am totally out of control when I beat my wife. I think it is a mental problem."
WORKING TOGETHER: Volunteers distribute posters against violence on women in Chaohu, Anhui Province on November 25, 2008 (XIN HUA)
According to a survey conducted by the All China Women's Federation (ACWF) in 2010, domestic violence occurs in 30 percent of China's families, with more than 85 percent of the sufferers being women. About 100,000 Chinese couples divorce each year as a result of domestic violence.
Jiang Yue'e, head of the ACWF's department for protecting women's rights and interests, said one in every 10 of the complaints the organization receives involves domestic violence.
"Conjugal violence has grown into a potential threat to social stability," said Jiang. "The victims are mainly women and children, who suffer both physical and psychological pain."
A study conducted by the Beijing-based China Law Society supports estimates that more than one third of Chinese families have domestic violence but many are not public about it.
"This is lamentably not a new issue anywhere," said Liu Xiaojuan, an attorney and Administrative Director of the Anti-Domestic Violence Network (ADVN) of the China Law Society. "But over the last decade China has seen substantial progress as a result of simply bringing the issue of domestic abuse to public attention."