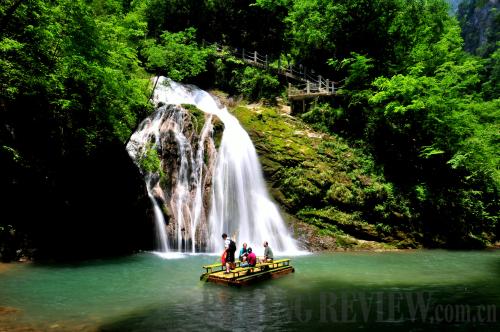 Suolong Waterfall of Jinsi Grand Canyon (FILE)
Mountains are everywhere, and rivers flow in almost every valley. This is the Qinling Mountains, a major east-to-west range in southern Shaanxi Province, bordering Hubei and Henan provinces. Because of its huge forest coverage, the Qinling Mountains are also known as one of the lungs of China.
Expectations for travelling are changing in China as the lifestyle of city dwellers has become fast-paced and demanding. That provides the Qinling Mountain area a great opportunity to develop leisure tourism.
"With its well-preserved ecology and diverse resources, the Qinling Mountain area has become a perfect destination for urban tourists seeking a peaceful getaway," said Wang Linbin, Vice Director of Public Information Office of Shangluo, Shaanxi Province. Shangluo and the six counties under its administration are in the hinterland of the Qinling Mountains.
Jinsi Grand Canyon National Forest Park in Shangnan County at the southern foot of the Qinling Mountains, is a paradise for ecological and leisure tourism. The park covers an area of more than 20 square km. It is approximately a two-hour drive from Xi'an, the capital city of Shaanxi.
"The grand canyon is within two hours from Shiyan in Hubei Province, Nanyang in Henan Province and Xi'an. It can be seen as a relaxing backyard garden for citizens of those metropolises. Its beautiful scenery also attracts many tourists from both China and foreign countries," said Hao Changjun, deputy head of Shangnan County.
The park includes five scenic sections: White Dragon Gorge, Blue Dragon Gorge, Black Dragon Gorge, Shiyan Stockade and Danjiangyuan. These contain hundreds of natural scenic spots, such as an ancient plank road alongside cliffs, fountains and waterfalls, long bridges, perilous peaks, karst caves, natural fissures and trees growing on rocks.
The grand canyon of 20.5 km in length is a natural oxygen bar for city dwellers seeking fresh air and seclusion. Its total forest coverage reaches 89 percent with 1,696 types of flora including more than 30 kinds of rare plants such as taxus chinensis, henry emmenopterys and various orchid species. It also provides a home for more than 60 rare birds and animals. Additionally, a rare oak tree belt and Qinling's first orchid valley can be found in the canyon. With an average annual temperature of 14 degrees centigrade, the climate in the canyon is mild to moderate. The park is very pleasant for tourists to enjoy the cool and fresh air as the temperature is never above 28 degrees centigrade in summer.
The canyon is also a geological park. There are more than 20 karst caves on the cliffs and peaks. Among them the most renowned is Gold Lion Cave, which is named after the lion-like calcspar stone inside the cave. Its main cave, 50 meters in length and 30 meters in height, covers an area of about 7,000 square meters. In the cave, there are remains of 30 wooden houses built during the Qing Dynasty (1644-1911).
Jinsi Grand Canyon also contains diverse cultural heritage. Zhang Sanfeng, a semi-mythical Chinese Taoist priest of the Yuan Dynasty (1271-1368) who is believed by some to have achieved immortality, lived in seclusion and attained mastery of Tai Chi here in Shiyanzhai. One Taoist temple, which is still in use in Shiyanzhai, has played witness to that history. Many temples, caves and stone tablets have been built or restored in the area since the Qing Dynasty, forming a series of cultural landmarks.
The park opened to the public in 2002. Since then, supporting facilities such as a cableway, hotels and restaurants have been built. In addition, there are also more than 200 farmhouse inns for tourists to enjoy the Qinling farming lifestyle and their distinct food such as stewed pheasant, brawn, bacon and food seasoned with herbs. At night, bonfire parties are organized. Tourists can enjoy the performance of local ethnic dances and songs and participate directly in the performance.
Around the canyon in other parts of the range, there are other alluring tourist attractions and travel programs for tourists to relax, such as rafting on the Dan River and tea-leaf picking.
"Ecotourism in the county is not only environment-friendly but also benefits the local people. Many of them have given up moving to cities to work and instead operated their own farmhouse inns here. That decision has helped many to increase their income remarkably," said Hao.