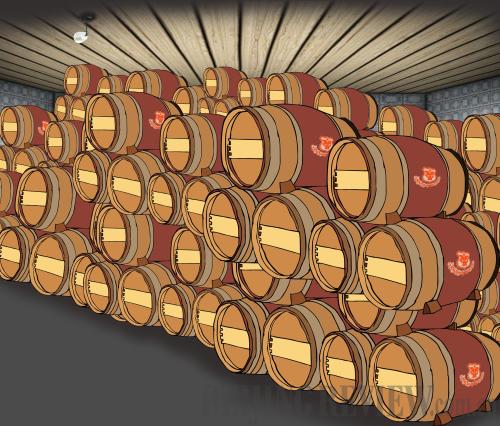 (LI SHIGONG)
When I was invited to visit east China's Shandong Province for a wine festival held on September 23-26, I erroneously believed I would be drinking beer in the coastal city of Qingdao, home of world-famous Tsingtao beer. After all, the character jiu, meaning alcohol, is often mistakenly translated as "wine," although that term is specific to grapes, as it is derived from the Latin word vino, and shares the same linguistic root as "vine."
For those uninitiated to Chinese drinking culture, the potential confusion between white wine and baijiu (white alcohol) can become more than a merely linguistic headache, especially if one is expecting European-style alcohol fermented from white grapes and instead ends up drinking the traditional Chinese distilled sorghum spirit with a famously formidable alcohol content of 80 to 120 proof (or 40 to 60 percent).
Previous experience with Chinese wine had led me to believe that any kind of jiu festival in Shandong other than pijiu (beer) would be unthinkable. .
My first mistake was to assume Shandong—also home of Confucius—was renowned for only its beer. Shandong people are prodigious drinkers, and their talent for drinking dates back long before the introduction of Western lager beer.
Instead of visiting a beer festival in Qingdao, I attended a real wine festival in Yantai, about 211 km northeast.
Yantai is a multicultural city at an international crossroads with its own uniquely enduring and endearing characteristics. The cosmopolitan historical characteristics of the area present the proper social foundations for building a thriving Chinese wine industry. The climate is also quite suitable: Yantai enjoys an average temperature of 11.8 degrees centigrade, and there are only around 10 days a year when the temperature dips lower than -7.1 degrees. Yantai's latitude and climate are similar to the Bordeaux region of France. Consequently, in 2008, the wine merchants Berry Brothers & Rudd speculated that within 50 years, considering current meteorological trends in climate change, the quality of wine in China might rival that of Bordeaux.
The Changyu Wine Culture Museum is located at the site of the original Changyu Wine Company in the Zhifu District of Yantai City. There, I met Jean Pierre Surducan, a French-Canadian sommelier from Quebec who has been advising Changyu for four years. He told me about the history of the Changyu Wine Company.
The Changyu Pioneer Wine Co. Ltd. is China's oldest and largest winery. Founded in 1892 by an overseas Chinese diplomat named Zhang Bishi, the company underwent many trials and tribulations and yet remains China's largest wine producer. In 1894, construction began on Changyu's Grand Cellar, above which the museum is currently located. The cellar, having been rebuilt and renovated several times, is an architectural triumph. It is nearly 2,000 square meters in size, 7 meters in depth. The floor is approximately 1 meter below sea level, and the cellar is only 100 meters away from the sea itself. These factors are crucial for maintaining the fermentation processes of wine-making.
The vines themselves have stories to tell. In 1915, Zhang visited the United States to attend the Panama-Pacific Exposition in San Francisco. While there, he visited 22 states and traveled over 10,000 miles before returning to China with around 2,000 plants. These grapes were of insufficient sweetness and half rotted on the vines before harvest. Another batch of 640,000 plants imported from Europe met a similar fate, and few survived. A Belgian enologist and viticulturist named Balboa observed foreign grape plants had no resistance to a type of root-eating insect indigenous to Shandong. The problem was solved by grafting roots of a variety of white grape from northeast China to the European red grape plants. The resultant hybrid—called Cabernet Gernischt—is rich in sugar and resistant to cold, root-eating pests and disease. This type of grape is now unique to China.
The most striking departure from European tradition arises from Chinese drinking culture: Failing to empty one's glass after a toast can result in a loss of face. Here, Chinese enthusiasm triumphs over European protocol. But the sight of a person gulping a glass of wine elicits discomfort. Surely, I thought the sommelier would agree wine should be sipped leisurely rather than dumped down the hatch with the enthusiasm one might show when drinking beer and baijiu. That is, until Surducan said, "When in China, do as the Chinese do," and proceeded to do just that.
And yet, I will never forget anything I had learned in Yantai, except for certain dimly recollected things better left unremembered.
The author is an American living in Beijing