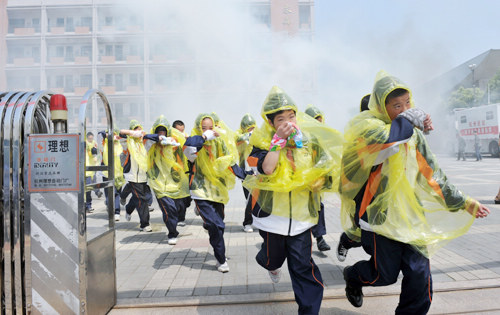 SAFETY DRILL: Middle school students take part in disaster response practice in Hangzhou, Zhejiang Province (XINHUA)
According to a joint statement issued by the Ministry of Civil Affairs (MOCA) and the National Disaster Reduction Commission (NDRC) on October 10, natural disasters left 1,074 people dead or missing across China in the first nine months of this year.
Between January and September, natural disasters affected 480 million people nationwide, resulting in the evacuation or relocation of 9.12 million people. The disasters also incurred a combined direct economic loss of more than 302.8 billion yuan ($44.33 billion).
"On average, natural disasters cost 2.38 percent of China's GDP in the past 20 years," said Fan Yida, chief engineer with the NDRC.
Fan said the country will make consistent efforts to improve its ability to prevent and mitigate disasters. The government's aim is to keep the economic losses from such disasters to less than 1.5 percent of annual GDP.
Over the next five years the government will work to ensure aid reaches people struck by natural disasters within 12 hours. Current disaster relief regulations require the victims should be guaranteed necessary supplies such as water and food within 24 hours of the occurrence of a disaster.
To respond to natural disasters more effectively, China is expected to train over 2.75 million people in disaster prevention and emergency management by the end of 2015.
Fan said disaster prevention and mitigation is an important part of the government's public services. "We should give full play to the leading role of the government during the process and also encourage non-government organizations to take part," Fan said.
On May 10 of this year, a new national map of disaster-prone areas was released by the State Key Laboratory of Earth Surface Processes and Resource Ecology at the Beijing Normal University.
The map shows the eastern and central parts of China are highly prone to earthquakes, floods, landslides, typhoons and droughts.
"Because most eastern areas, especially the coastal regions, are fast-developing and have a large population, the damage from natural disasters would be heavy," said Shi Peijun, Deputy Director of the National Committee of Disaster Relief, who was in charge of drawing up the map.
According to Shi, the main aim of publishing the map is to make people throughout the country more prepared in the event of a sudden catastrophe.
"The risk of natural disasters is rising in China and we may be entering a period with frequent extreme weather events and geological disasters," Shi said, calling for intensified efforts to mitigate these risks.
Since 2008, China has suffered several major natural disasters.
On May 12, 2008, an 8.0-magnitude earthquake jolted Wenchuan, Sichuan Province, claiming about 80,000 lives, injuring tens of thousands of others and causing a direct economic loss of about 845.1 billion yuan ($132 billion).
In April 2010, a 7.1-magnitude tremor hit Yushu, Qinghai Province; and in August last year, devastating mudslides killed about 2,000 people in Zhouqu, Gansu Province.
On March 10 of this year, Yingjiang County in Yunnan Province, a poverty-stricken area located near the border with Myanmar, was jolted by a 5.8-magnitude earthquake, which flattened thousands of homes and left 26 people dead and another 313 injured.
In order to improve its ability to prevent and mitigate disasters, the Chinese Government authorized the MOCA to establish the NDRC in 2002, which became functional in May 2003. In 2009, a satellite disaster reduction application center was established at the NDRC.
"Today, a 24-hour monitoring mechanism is in operation," Fan said.
On September 6, 2008, Huanjing-1A and Huanjing-1B, China's first two satellites dedicated to environment and disaster monitoring, were launched. Each satellite has two charge coupled device cameras, with a 30-meter resolution and a 720-km width, on board. According to the State Administration of Science, Technology and Industry for National Defense, the cameras can jointly scan and produce an image of China's entire territory in two days.
This enables the two satellites to monitor a designated area multiple times and inform government agencies of potential disasters.
"The two satellites provide a stable, long-term data source that helps China fight disasters," Fan said, adding a small radar satellite would be launched later this year to work with the two optical satellites.
Eventually, these satellites will form a constellation, which will provide 24-hour weather monitoring. "They will provide forecasters with a complete image on China once every 12 hours," Fan said.