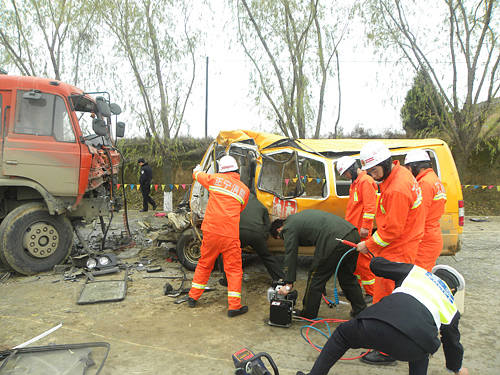 ACCIDENT SCENE: Rescuers work at the site of the traffic accident in Qingyang, Gansu Province, on November 16 that killed 19 preschool children and two adults (XINHUA)
After a deadly traffic accident in northwest China's Gansu Province killed 19 preschool children and two adults, people are expressing their sadness at memorial websites and discussing how to make the children's journeys to school safer.
At 9:15 a.m. on November 16, a van collided head-on with a heavy truck in Yulinzi Town, Zhengning County in Qingyang City. The van was shuttling children, accompanied by a teacher, to a private local kindergarten, and was driving on the wrong side of the road.
The saddest part of this accident is that the nine-seat van, whose seats had all been removed, was crammed with 62 children. The bus driver and four children were found dead on the scene, while the teacher and 15 other children died after being sent to hospital.
A white chrysanthemum decorated the black background of a memorial site for the victims at Web portal QQ. As of November 21, 240,000 people had visited the website and 180,000 visitors had left condolence messages.
Twelve hours after the crash, more than 960,000 visitors had posted comments on Weibo, a twitter-like micro-blogging site in China.
Following the accident, two deputy county mayors of Zhengning and heads of the county's education and transportation authorities were suspended. The involved kindergarten was taken over by the government, and its board chairman has been arrested on charges of violating traffic laws and regulations by refitting the van.
On November 16, the Ministry of Education ordered schools and kindergartens nationwide to conduct safety checks on vehicles transporting students. The ministry said that vehicles failing safety tests should immediately be taken off the road.
In addition, the ministry said that drivers, students and parents should receive instruction on traffic safety and education institutions should take safety measures during extreme weather conditions, such as heavy fog and snow, including stopping school bus services and adjusting school hours.
In less developed rural areas and in areas with insufficient transport capacity, local governments have been urged to provide or rent safe vehicles to transport students.
A micro-blogger known as Huaxia-China said that the government should create a special fund to purchase standard school buses, which would be more meaningful than punishing the perpetrators.
Currently, special school buses are used in only a small number of places in China, such as Lhasa City in southwestern Tibet Autonomous Region, Deqing County in eastern Zhejiang Province, Kuandian County in northeastern Liaoning Province and Qingdao City in eastern Shandong Province.
In most parts of the country, students go to school in all sorts of vehicles, such as regular buses, vans, tractors, tricycles and even horse drawn carriages. Some vehicles are operated by schools, but many are run by unlicensed individuals.
A number of "school bus" accidents have been reported in recent years. On December 27, 2010, a tricycle transporting 20 primary school students fell into a river in Hengnan County, central Hunan Province, resulting in 14 deaths and six injuries.
Last year, in Guangdong Province's Dongguan City alone, 64 traffic accidents involved school buses, which left five dead and 97 injured.
A survey by the Beijing-based Sunglory Education Research Institute shows around 70 percent of school bus accidents occur in rural areas in China.
As the number of students decrease due to the family planning policy and a surging migration to cities, schools in rural areas have been merged and children now have to travel longer distances to schools, necessitating the use of school busses in small towns and villages.
"The number of school bus accidents has kept increasing since the policy of dismantling small teaching sites and merging schools in rural areas was adopted," said Yuan Guilin, a member of the Chinese Society of Education, on November 17.