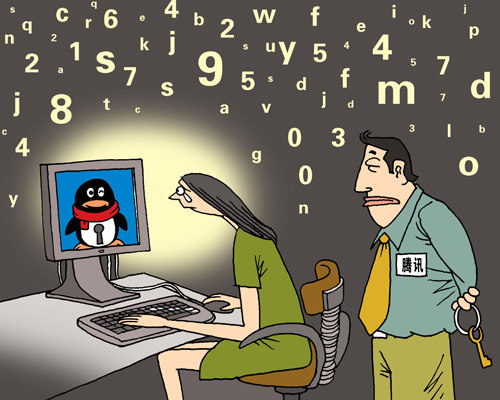 (CFP)
Recently, a woman surnamed Wang in Shenyang City, northeast China's Liaoning Province, contacted Tencent, operator of China's most popular instant messaging service and social networking platform QQ, and requested access to her husband's account. A few weeks previously, Wang's husband was killed in a car accident and she wanted access to the letters and photos stored in her husband's QQ account. According to Wang, the account held the couple's correspondence from the time they started dating, but she did not know her husband's password.
Tencent rejected Wang's request and explained that the QQ accounts belonged to the company rather than users. This, the company said, was in line with QQ's terms of service.
Wang was left wondering why she was unable to inherit what to her was effectively her husband's online property.
After it was first reported by the China Business Morning View newspaper, the story immediately became a headline nationwide and triggered heated debates among Chinese netizens on several major social networking sites, with the majority of comments criticizing Tencent for its "inhumane" treatment of deceased users and their families.
Later, Tencent officially attributed the "delay" in handling Wang's application to its strict policies in protecting users' privacy. The company also promised to help Wang access her husband's account after verifying her identity with local authorities.
According to the China Business Morning View, a man surnamed Liu is contemplating what will happen to his QQ number once he dies. In China a catchy QQ account number is as prized an asset as a personalized car license plate. Liu said that he had received offers for as much as 10,000 yuan ($1,587), for the number. As such, he regards the number as an asset which, like a valuable vase, he should be able to pass on to his children.
Meanwhile, many veteran online game players said that their gaming achievements and virtual weapons were worth even more, and ought to be protected in law and given the same status as physical items.
Under Tencent's terms of service, the right to use an account belongs solely to the original applicant, and this right shall not be gifted, loaned, rented, transferred or sold.
"Similar clauses exist for almost all online services. Users can only use these digital products but don't own them, which I believe is rather reasonable," said veteran Internet industry observer Zhang Yi. He told Yangcheng Evening News in Guangzhou, south China's Guangdong Province, that if users had ownership of the accounts, they would be justified in claiming compensation if a service provider were to go bankrupt.
Zhang insists that only digital products that charge a fee can be classified as virtual assets, but free products are not. "While it is true that users spend time and effort maintaining their accounts and adding value to them, this added value only exists as long as service providers continue to operate," Zhang explained.