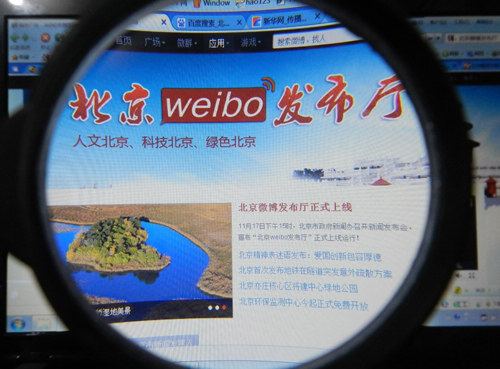 A NEW PLATFORM: Beijing Weibo Press Conference Hall on Sina's weibo.com is launched by the Beijing Municipal Government on November 18 to release news about government administration (WANG ZHEN)
Li Yan, a graduate student at the Tsinghua University Law School, may not be a household name. However, she won a battle for information that will strengthen the right of ordinary Chinese citizens to obtain information from government departments.
The 24-year-old student had requested information about the responsibilities of the vice ministers at the Ministry of Science and Technology, the Ministry of Land and Resources and the Ministry of Education, for an academic paper she was preparing.
When this request was turned down, she filed a case at the Beijing No.1 Intermediate People's Court in early September against the three departments.
Ying Songnian, an administrative law professor at the China University of Political Science and Law, said Li's request, which was in line with the country's Regulations on the Disclosure of Government Information, should have been met.
"It's good to see a young student fighting for her rights, since establishing a transparent government requires effort by both the authorities and the public," Ying said.
In October, Li finally reached an agreement with the three ministries after receiving information on the functions of the relevant ministers.
In spite of the progress made since the Regulations on the Disclosure of Government Information came into effect on May 1, 2008, the fact is that obtaining information from government agencies remains a major challenge for individual citizens in China.
The regulations stipulate that government departments have an obligation to publish all the information related to the department's operation, with the exception of properly defined "secrets." However, few of them have honored that obligation in the past three years.
A report on the transparency of government agencies, published by Peking University's Center for Public Participation Studies and Support in late September, said only eight out of the 43 evaluated central government departments scored more than 60 points out of a possible 100 in a test to gauge their level of transparency and the other 35 departments received failing grades. The average score of the 43 departments was 51.
"Government departments still don't think that information disclosure is their responsibility," said Wang Jingbo, co-author of the report from China University of Political Science and Law.
"When we called officials with the State Council's Legislative Affairs Office and asked them to release an opinion solicited on a draft law, they simply said that they didn't have to disclose that," Wang said. "As for those who responded to our application, the information they offered usually lacked substance."
"Access to government information is the cornerstone of government supervision," Ying said. "How can we know how they spend tax payer's money if we can't even see annual budgets?"
In June, the Standing Committee of the National People's Congress, China's top legislature, approved the final accounts of the 2010 central government spending. For the first time the accounts included a special section on the Central Government's expenditure on vehicles, overseas trips and receptions, which is referred to by some observers as the "three public consumptions."
According to statistics from the Ministry of Finance, about 9.47 billion yuan ($1.39 billion) was spent on the three public consumptions by the nation's central government departments and institutions affliated to them in 2010.
The bulk of the spending, 6.17 billion yuan ($903.37 million), went toward purchasing vehicles and transportation expenses, 1.77 billion yuan ($259.15 million) was spent on overseas trips and 1.53 billion yuan ($224.01 million) on receptions.
In addition, the Central Government's administrative overhead stood at 88.71 billion yuan ($12.99 billion) in 2010.
Government expenditure on the three public consumptions has long been viewed as a major source of government corruption and waste. Many people have accused government departments of deliberately omitting information regarding their extravagant spending on perks for officials in fiscal statements.
For years, people have been guessing and making estimates of how much money the government departments, at every level from county to national, spend on the three public consumptions.
Some estimates put government spending on the three consumptions at 900 billion yuan ($131.77 billion) a year, which represents about 30 percent of total government expenditure.