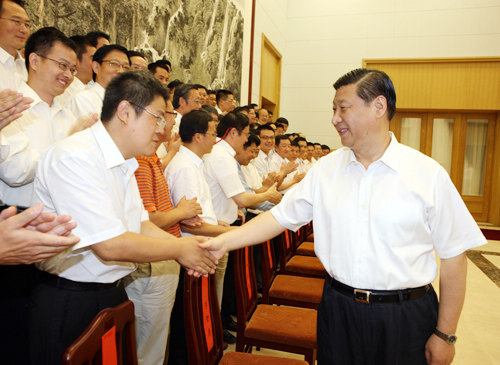 HIGH-LEVEL ATTENTION: Vice President Xi Jinping meets with people entering the 1,000 Talents Program on July 20, 2010 (YAO DAWEI)
The first batch of young researchers selected for China's 1,000 Young Talents Program was announced on November 11. The program, which started in early 2011, will select 2,000 top-notch young researchers with overseas experience over the next five years. Successful applicants will receive large grants and other benefits from the Chinese Government.
The launch of the 1,000 Young Talents Program this year demonstrates China's greater efforts to pursue talented people, said a Xinhua News Agency report on November 11. "Talented young people have active minds, as well as the passion and ability to innovate. The history of science shows that a large amount of outstanding scientific and technological achievements were made by scientists when they were young," it said.
This year, 143 people aged between 27 and 40 have been selected from 1,035 candidates recommended by Chinese universities, research institutes and state-owned enterprises through three rounds of review.
Among those who made this year's list, 115 are employed by Chinese universities, 25 by research institutes and three by large state-owned enterprises. More than 95 percent have Chinese nationality and 13 are female. Most of them have research experience at leading overseas universities such as Harvard, Massachusetts Institute of Technology, Princeton, Oxford and Cambridge as well as experience working for multinationals including Volkswagen and British Petroleum.
The Chinese Government will provide each person in the program with a lump-sum award of 500,000 yuan ($76,900) as well as 1 million to 3 million yuan ($153,800-461,500) in research grants over the next three years. Furthermore, they will also be given preferential treatment in terms of medical care, housing, and for foreign nationals, permanent residency and multi-entry visas.
China has launched over a dozen national programs to attract talented scientists from around the world to conduct innovative research and start up businesses in China.
The young talent program is a special program under the 1,000 Talents Program, which was launched in 2008 and is officially known as the Recruitment Program of Global Experts. The program aims to recruit about 2,000 top-notch scientists to work in China within 10 years.
As of this August, the 1,000 Talents Program has enrolled 1,510 people from 6,200 applicants.
Recruiting global experts is listed as one of the 12 programs that comprise China's National Medium- and Long-term Talent Development Plan (2010-20). Released in 2010, the talent development plan is a blueprint for creating a highly skilled work force within the next 10 years.
"The national talent development plan is part of the strategic efforts that will help transform China from a labor-intensive economy into a talent-rich one," said Wang Huiyao, Director of the Center for China and Globalization and Vice Chairman of the China Western Returned Scholars Association.
"Most Chinese officials have realized that good buildings and infrastructure are not enough. The country's modernization needs a large number of talented people," Wang said.
Yet over the past decades China has suffered a severe brain drain. Since 1978, 1.92 million Chinese students and scholars have left the country to study or conduct research abroad. So far 630,000, or less than one third, have returned to China.
As of 2007, 98 percent of Chinese receiving a doctoral degree in science and engineering from American universities in 2002 stayed in the United States, said the Wall Street Journal, citing data compiled by the U.S. Energy Department's Oak Ridge Institute for Science and Education for the National Science Foundation. The percentage was the highest among the cohort of doctoral degree recipients from foreign countries.
In recent years, however, the number of graduates choosing to return to China has been increasing. China's Ministry of Human Resources and Social Security said that in 2010 alone, 135,000 Chinese with overseas education returned to China, a 24.7-percent increase over the previous year.
Returned overseas students have become an important innovative force in science and technology. In 2010, one third among the winners of the State Nature Science Award, one of China's five top-level scientific and technological awards, had studied abroad.
In addition to national plans, many Chinese provincial and municipal governments have launched local programs to attract talented people from overseas.
Last month, Shanghai published the list of the first successful applicants to its 1,000 Talents Program. Eighty-eight percent of the 160 people on the list hold a doctoral degree from overseas universities.