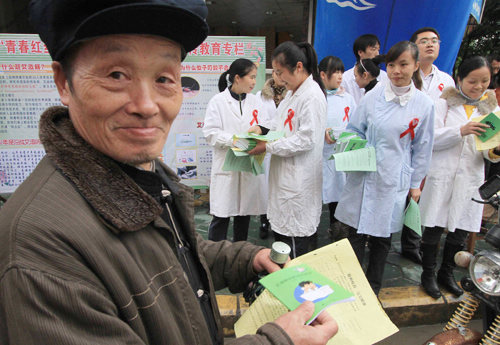 GETTING INFORMATION: A resident participates in an HIV/AIDS awareness campaign in Fengshan County, southwest China's Guangxi Zhuang Autonomous Region, on December 1 (ZHOU ENGE)
The theme of World AIDS Day this year is "Getting to Zero," which means zero new HIV infections, zero discrimination and zero AIDS-related deaths.
Realizing these goals, however, is an extremely difficult challenge. Three decades after the first case of HIV was reported in the world in 1981, poor awareness and inadequate medical responses have allowed the virus to continue to spread worldwide.
In the first 11 months of this year, 48,000 new cases of HIV infection and 28,000 AIDS-related deaths were reported across China, according to a statement released by the Ministry of Health (MOH).
About 88,000 people in China had died from AIDS since 1985, when the country reported its first case, the statement said.
In order to contain HIV/AIDS, the Chinese Government has set ambitious targets to reduce AIDS-related deaths by 30 percent and new infections by 25 percent by 2015.
China currently has 346,000 registered HIV carriers and AIDS patients. But the number including unregistered people living with HIV/AIDS (PLWHA) is predicted to hit 780,000 by the end of this year, according to the MOH statement.
"Although the overall number of reported HIV/AIDS cases in China has been declining and the growth of registered PLWHA has slowed in recent years, some regions and some groups of people still display a much higher incidence of the disease," said Minister of Health Chen Zhu.
Infection through sexual intercourse has become the main HIV/AIDS transmission mode in China. Of the 48,000 newly reported infections this year, 81.6 percent contracted the virus through sex, including more than 29 percent through homosexual acts. Statistics from the MOH show that the growth in the number of reported HIV/AIDS cases among homosexual men has risen from 22.8 percent in 2006 to 58.7 percent this year.
"Since sex has become the most common means of HIV/AIDS transmission, the campaign to curb the virus' spread has taken on more complexity," Chen said.
Official statistics also show an increasing number of older people and college students have become infected with HIV/AIDS through unsafe sexual intercourse in recent years.
Figures revealed by the Chinese Center for Disease Control and Prevention (CCDC) on November 30 show that the number of HIV-positive men in their 60s and above soared from 483 in 2005 to 3,031 in 2010, accounting for 8.9 percent of the total population of PLWHA, up from 2.2 percent in 2005.
According to a survey conducted earlier this year among 158 HIV-positive men in southwest China's Yunnan Province, aged 50 and above, two thirds of the respondents admitted to having paid for sex and never using a condom.
"To some extent, however, the increasing number of elderly people testing positive for HIV should be attributed to broader and better testing efforts," said Lu Lin, Director of the Yunnan Provincial Center for Disease Control and Prevention.
By the end of October, Yunnan had reported 93,567 HIV carriers and AIDS patients, the highest figure among all China's provinces, municipalities and autonomous regions. Men in their 60s and above accounted for 8.3 percent of newly reported cases in the province this year, 2.1 percentage points higher than in 2010.
Although tackling the spread of HIV/AIDS among the elderly is a pressing issue, the stigma associated with the disease remains a major obstacle for such initiatives.
"Many older PLWHA refuse treatment," said Kang Jun, Director of the HIV/AIDS Prevention and Control Office of Yunnan's Xishuangbanna Dai Autonomous Prefecture.
Their primary concern is that if they receive treatment, their situation will be made public, and they will therefore "lose face," according to Kang. Despite years of anti-discrimination campaigns in China, HIV/AIDS is still deemed as disgraceful by many people and often PLWHA themselves feel ashamed of their situation.
"Another justification for refusing treatment given by some older PLWHA is that they are already old and don't have much time to live anyway," Kang said. "Sometimes doctors who try to contact older PLWHA find themselves being dismissed, rejected or even threatened. They would rather die and hold on to the secret forever. In some extreme cases, patients tell us that if their situation were to be exposed to others, they would choose to commit suicide."