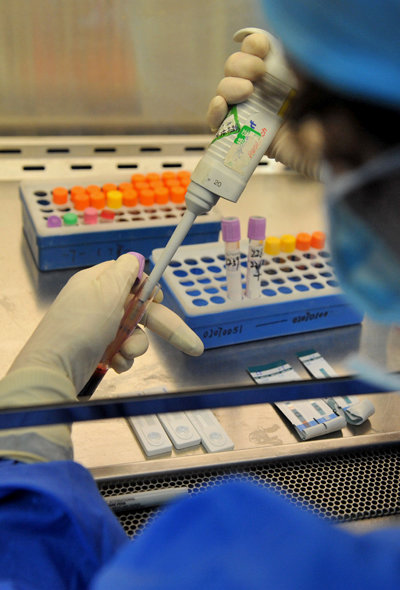 CHECKING CAREFULLY: A doctor checks blood samples for HIV/AIDS at the Yunnan Provincial Center for Disease Control and Prevention on November 24 (LIN YIGUANG)
The government is also working on measures to help children orphaned by HIV/AIDS, to ensure a basic standard of living, equal education opportunities and access to medical treatment.
In addition to more spending on treatment, China will also expand its HIV/AIDS prevention and control network, beginning with "effective intervention measures" for 90 percent of high-risk communities.
"In five years, counseling and testing services should be available at all hospitals operating at the county-level and above. In regions with a high prevalence of HIV/AIDS, these services would also be available at grassroots clinics," said Vice Premier Li Keqiang at a plenary meeting of the State Council AIDS Working Committee on November 18.
To achieve the target, the government will provide HIV/AIDS NGOs with financial and other kinds of support to give full play to their role in anti-HIV/AIDS efforts, particularly HIV/AIDS awareness education and intervention.
In the process of establishing a mechanism to involve social forces in HIV/AIDS prevention and control, Li called on health authorities at all levels to keep close contact with HIV/AIDS NGOs and provide assistance to these organizations and their volunteers.
That was the highest-level commitment made so far by the Chinese Government in support of HIV/AIDS NGOs.
Currently, such organizations work with money mainly from overseas, said CCDC's Wu.
"The Central Government is making arrangements to change that situation, as the role of NGOs, especially in reaching out to PLWHA, has been recognized," he said.
According to Thomas Cai, Director of AIDS Care China, an NGO based in Guangzhou, Guangdong Province, trial projects carried out last year in Wuhan and Xiangyang cities in central China's Hubei Province showed that the involvement of NGOs helped detect more PLWHA among the local population of men having sex with men (MSM), with a verified incidence rate of 7.8 percent compared with the previous 4 percent.
Minister Chen has also admitted that the detection of more than half of HIV-positive MSM on the Chinese mainland involved efforts from NGOs.
In his speech on November 18, Vice Premier Li said that more assistance should be provided for PLWHA, and their rights and interests should be better protected. He called on society as a whole to root out discrimination against PLWHA.
"The discrimination largely comes from the fear of contracting HIV/AIDS and the ignorance about the causes of disease," said Yu Fangqiang, founder of Tianxiagong, an HIV/AIDS NGO in Nanjing, east China's Jiangsu Province.
On December 29, a petition signed by more than 12,000 people was sent to the MOH and the Ministry of Human Resources and Social Security, calling for equal rights for HIV-positive job seekers.
The petition, called One Photo for Each, Smiling to Support Equal Working Rights for HIV Carriers, was initiated by Tianxiagong. Those who signed up to the petition took photos of themselves holding pieces of paper saying they are willing to work with HIV-positive people.
"We wanted to raise social awareness about giving HIV-positive job seekers equal opportunities through this campaign," Yu said.
UNAIDS got involved in the campaign at the end of September and also published photos on its micro-blog.