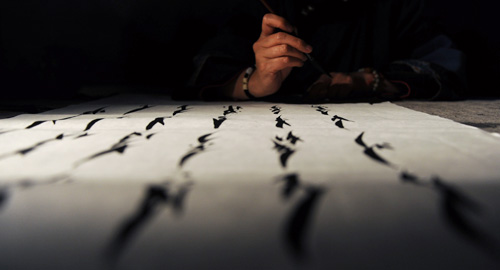 (LI GA)
Jiangyong County, a remote place in central China's Hunan Province, has been gathering more attention due to a strange-looking language passed down exclusively by women for hundreds of years.
The language, which is called nushu, or women's script, is said to originate from Chinese square-block characters, but the orthography and pronunciation are quite different from all other branches of Chinese dialects.
"Women in ancient days couldn't get the chance to go to school. So the wise women in Jiangyong created their own language," said Zhao Liming, a professor at the Department of Chinese Language and Culture of Tsinghua University. Zhao has been studying nushu for more than 30 years.
"Only women could understand the language and they write and talk with the language. Although most of them spent their entire lives doing housework, with this language, they could manage to communicate in a unique way."
According to Zhao, nushu is the only single-sex writing system in the world, but its origin is still not clear. The earliest record is on coins minted by rebel farmers between 1851 and 1864. Experts believe this language was developed in the Jin Dynasty (1150-1234).
"According to local customs, when a woman passes away, all the nushu written records the woman once held should be burned," Zhao said. "That is why it is very hard to find records of this language and it has not been known by people from other places for a long time."
A novel find
Zhou Shuoyi, a native to Jiangyong, started his study on nushu in the 1950s. Zhou's family had a poem written in nushu, which had been handed down for at least six generations. His father was very interested in the strange writing and urged Zhou to investigate.
In 1982, Zhou wrote a book about the region's culture, including a section on nushu. After its publication, scholars from home and abroad started dropping by. Gong Zhebing, a professor of philosophy at Wuhan University in neighboring Hubei Province is one of them.
Gong's essay, Investigation on a Special Language, was published on the Journal of South-Central Institute for Nationalities in early 1983. It is the first essay on nushu.
In 1997, Gong founded the China Women and Gender Research Center at Wuhan University, which then developed into one of the most authoritative study centers on nushu.
Professor Zhao at Tsinghua University started her research on nushu in the 1980s. Since the 1990s, she has guided a number of graduate students in studying nushu at Tsinghua. "So far, we have collected a vocabulary of 1,500 words," said Zhao, who compiled them into a dictionary with students in 2005.
"Nushu is rendered in a style much more cursive than written Chinese and the characters are thinner than Chinese characters," Zhao said. "It is written from top to bottom in columns. Women write nushu on fans, handkerchieves or cloth with sharpened sticks and soot from the bottom of a pot."
Zhao attributes the emergence of nushu in Jiangyong partly to the region's ancient custom of "sworn sisters," whereby village girls would pledge one another fealty and friendship forever. The tight sorority, which included growing up together in cobbled village lanes and gathering with adult women to weave and embroider, was inevitably shattered when the time for marriage came. Tradition dictated that a bride goes away to her groom's home—and that is where nushu came in.
"The content of the written record of nushu is mostly about the sorrow and wishes expressed among sworn sisters," said Zhao, who gave an example of the Third Day Book.
Three days after the wedding, the adolescent bride would receive a Third Day Book, a clothbound volume in which her sworn sisters and mother would record their sorrow at losing a friend and daughter and express best wishes for happiness in the married life ahead. The first half-dozen pages contained these laments and hopes, written in nushu that the groom couldn't read. The rest were left blank for the bride to record her own feelings and experiences—in nushu—for what would become a treasured diary.