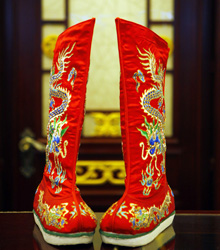 DRAGON BOOTS: Neiliansheng presents a pair of special cloth boots to female shoe buyers (XING GUANGLI)
Amid the rhythmic tap-dance of production inside Neiliansheng's factory in Xicheng District of Beijing, He Kaiying, a master of Neiliansheng cloth shoes, was teaching an apprentice to draw the outline of a sole. The 56-year-old senior shoemaker guides three young apprentices, passing on traditional shoemaking skills that have been in place since the company's establishment.
Neiliansheng, which means "unstopped promotions in official ranks" in Chinese, is a classic cloth shoe brand created in Beijing in 1853. It once provided shoes for emperors and royal court officials. At that time, wearing the court shoes of Neiliansheng was a fashion statement in Beijing and a mark of high status.
The craft of multi-layer-sole cloth shoe was listed on China's second intangible cultural heritage list in 2008. Today, it remains China's biggest manufacturer of hand-made cloth shoes.
"Neiliansheng's shoes are nice and cool in the summer and they don't pinch my feet," said Yu Shouzhong, a customer. "In winter, I wear thicker ones with fleece inside, they are even warmer than leather boots."
Sole inheritor
Neiliansheng shoes are hand-made, using pure natural materials such as cotton, hemp, wool or silk. The cloth should be rinsed and starched. Then, workers steam, overlap and stitch the cloth into soles. It takes a worker at least four days to make one pair of Neiliansheng shoes, said He. Each square of sole requires at least 81 stitches. As a result, making a pair of soles requires about 5,000 stitches. The sole made under such a process is more comfortable than those made of leather and it hardly deforms or cracks.
Making the delicate cloth shoes by hand is no easy task. A worker must bend his back, neck and legs in order to gain the leverage needed. Every day, He sits on a bench for several hours to sole the shoes, concentrating on each step.
"We can't allow this cultural heritage to disappear," said He.
As the brand's leading shoemaker, He has been given the title of state-level cultural heritage inheritor.
In 2008, to meet the needs of elderly customers, He restored the skill of making shoes that fit both feet.
"Usually, a pair of shoes distinguishes the left foot and the right foot," He said. "Many senior citizens find it inconvenient. In its history, Neiliansheng once produced shoes tailored for the elderly, but the skill disappeared. In recent years, many elderly people came to us for this kind of shoes. So we looked through the records, consulted veteran shoemaking masters and restored the skill."
Currently, this special kind of shoes has been reproduced and is on sale in the market.
The key to preserving a skill is to pass it on to the younger generation. This is what He has been doing in recent years. He has been teaching his three apprentices—Ren Chenyang, Cai Wenke and Zhao Guosheng—step by step.
The 27-year-old Zhao is the youngest of the three. As soon as he entered Neiliansheng, he was shocked by the skillset that goes into production.
"The skills that our master has taught us are unique and cannot be replaced by machines," said Zhao. Zhao is now responsible for quality monitoring.