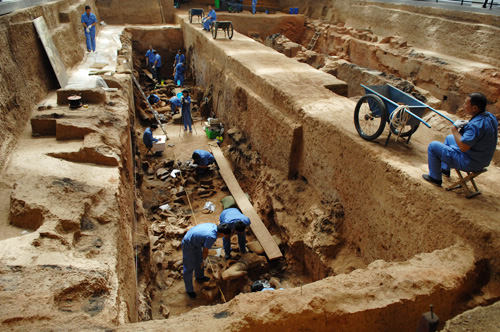 A TWIST: More than 20 statues depicting ancient acrobats are unearthed in a pit of Qinshihuang's Mausoleum in Xi'an, capital of northwestern Shaanxi Province, in June (LI YIBO)
The color of 1,000-plus painted terracotta warriors, sculpted 2,200 years ago in the Qin Dynasty (221-206 B.C.), were so exquisitely detailed that each face appeared unique before they were burnt to their current color.
On June 9, Chinese archeologists announced their latest findings after a three-year excavation at a pit inside the Terracotta Warriors and Horses Museum of Qinshihuang's Mausoleum, a UNESCO World Heritage Site, in Xi'an, capital of northwest China's Shaanxi Province. Archaeologists have unearthed 110 new terracotta warriors, 310 artifacts, including parts of chariots, weapons and tools, along with 12 pottery horses in three groups. The findings are unprecedented in recent times.
Emperor Qinshihuang (259-210 B.C.), the first Chinese emperor, had two famous wonders of the world built over 2,000 years ago: One is the Great Wall, and the other is his mausoleum, which is widely known for its terracotta army. Both have become major tourist attractions in China. The inner caverns of Qinshihuang's grand tomb, however, remain a mystery.
In 1974, the terracotta warriors were discovered by villagers when they dug a well near the emperor's tomb. It was the first glimpse of the once unbeatable army of the Qin Empire, recreated in clay inside the mysterious mausoleum. Archeologists have so far conducted three careful excavations over the past 38 years. This is the third dig, which began on June 13, 2009.
Exquisite detail
The fact that the terracotta warriors were painted with colors is one of the most significant findings from the newest excavation.
"Each pottery artifact buried in the pit of the mausoleum was once painted in different colors, though most of the terracotta warriors unearthed before are gray," said Xu Weihong, a researcher in charge of the excavation at the museum.
Archeologists have discovered a number of terracotta warriors with black or gray-brown eyes, while other figures display fierce red eyeballs and black pupils.
"The paint on pottery artifacts wore off due to undeveloped techniques in the Qin Dynasty and years spent being buried underground," she said. "But we still can identify some remnants of color on the eyes and nails of the terracotta warriors."
Archaeologists had assumed that the color of the figures would be faded or otherwise damaged.
Sophisticated arms
In addition to new terracotta warriors, scientists found many weapons used by the ancient army, including chariots and accessories, which provide more materials to study the military strength of the Qin Dynasty.
Items that belonged to these warriors, such as crossbows and drums, can also be found among the remains.
Archeologists found a painted shield on an unearthed chariot, the first of its kind to be discovered in any of the three burial pits of Qinshihuang's Mausoleum.
"The shield was partly broken, and it's believed it was the type used by a high-ranking official, because it's larger and had colorful patterns," said Zhang Weixing, a member of the excavation team.
The shield is 70 cm in height and 50 cm in width, with red, green and white geometric patterns. "It was found on the right side of a chariot, thus it might serve as a defensive part of the martial cab," said Yuan Zhongyi, the former curator who presided over the site's first excavation.
"This shield's fine art painting reveals that Qin soldiers not only were brave in attack but also attached importance to defense in fighting," Yuan said.
On the two unearthed chariots, archeologists also found different wooden parts, made of elm, mulberry or oak. Ancient people were very careful in choosing correct materials when building heavy armed equipment, Yuan said.
Other discoveries include bows and crossbows as well as 10 pieces of bi, a kind of fighting spear. According to historians, the Qin army possessed the most powerful crossbows in terms of range and accuracy at that time.