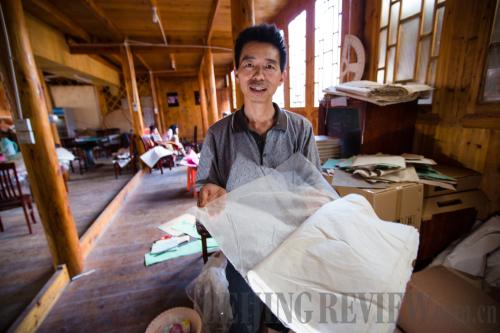 MASTERPIECE: Wang Xingwu displays his finished product for a book restoration project on June 29 at his home in Shiqiao Village (WAN QUAN)
Inside a typical cave amongst the karst scenery of the mountainous Shiqiao Village in Danzhai County, southwest China's Guizhou Province, an ancient trade is being restored. The Shiqiao Qianshan Ancient Papermaking Cooperative (SQAPC) is located in a small 400-square-meter cave, where organizers hold workshops teaching ancient papermaking techniques alongside the cave's crystal spring water flow.
"One of the main reasons we chose the cave for our workshop is that the spring water here is rich, high-quality and unpolluted, which is a key factor for papermaking," said Wang Xingwu, a villager of Shiqiao and Director of SQAPC.
Historic handicraft
Wang's workshop is not the only papermaking outfit in Shiqiao. Composed mostly of people from the Miao ethnic group, the village is well known for its ancient papermaking technique that dates back to the Tang Dynasty (618-907).
At present, there are about 300 households in the village and more than 1,200 people. Almost all the villagers, male and female, young and old, learn about papermaking.
The houses of Miao people are mostly built with logs on huge rock foundations. They are strong, simple, yet artistic structures. In Shiqiao, almost all houses are equipped with small papermaking workshops: a stone pool, wood-framed groove for making paper pulp and heated adobe platforms for drying paper.
Villagers said the ancient craft of papermaking in Shiqiao is different from modern-day mechanized production. The raw material includes the bark of a special kind of tree and paper mulberry, which can be easily found in the local area. From collecting tree bark, to pulling off the dry paper from the baking wall, it involves 14 steps to produce a finished piece of paper. All the steps are operated by hand, with no industrial chemicals used during the whole process.
Wang, who was born in 1966, learned the village trade from his father in 1980. "My ancestors had been engaged in papermaking for more than 1,000 years. I am the 19th generation of my family to inherit the skill," Wang said to Beijing Review.
However, the industrialization of China and the advent of modern technology have had a huge impact on the traditional papermaking business. With the changing demand of consumers, the number of villagers who can subsist through the trade has declined in recent years. The ancient craft is in danger of extinction.
In 1998, when Fu Yingchun, Director General of Tourism Administration of Guizhou Province (TAG) went to Danzhai in search of ideal tourist locations, he was introduced to the papermaking tradition in Shiqiao. Fu considered the papermaking craft a living fossil of ancient Chinese civilization, of value to both culture and tourism alike. Since then, the craft has undergone a revival. Shiqiao became a popular destination for tourists with an interest in ancient artistic practices.
"It was Fu who helped preserve and develop the ancient craft, saving it from ultimate extinction," said Wang.
A second chance
The papermaking business in Shiqiao saw a chance for renewed development. Wang, the master craftsman, first broke with the tradition of making bast paper exclusively and began developing new products. He invented a kind of colorful paper made of local wildflowers. In 2000, a Hong Kong businessman showed great interest in his products and purchased 60,000 pieces of paper in one order for 3 yuan ($0.4) per sheet.
After the initial success, Wang developed two more important paper products: Gui paper and Yingchun paper in 2006 and 2008, respectively.
Wang said Gui paper is used for art painting, and is on par with the famous Chinese rice paper.
"Compared with the rice paper, Gui paper has its own unique features. As it is a kind of handmade product without any chemical materials, it is rougher than the rice paper and allows ink to disperse naturally on the paper, creating a unique effect. Many painters from China Central Academy of Fine Arts (CCAFA), Guizhou Painting, Shanghai Painting as well as Guangzhou Painting academies prefer to use Gui paper," said Wang.