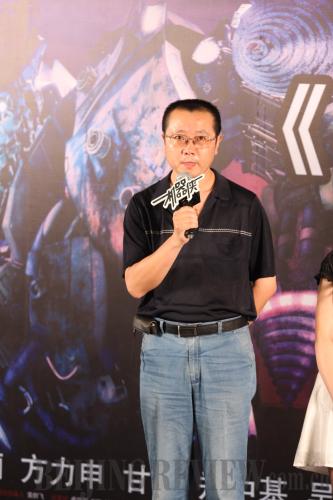 GROWING AUDIENCE: Sci-fi writer Liu Cixin speaks at a movie premiere in Beijing on August 12, 2009 (CFP)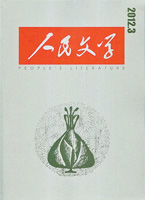 PEOPLE'S SCI-FI: The cover of the third issue of People's Literature in 2012. The magazine published a series of works by Chinese sci-fi writer Liu Cixin (FILE)
China's fast-growing cityscapes often resemble the setting of a futuristic science fiction novel. But as a genre, science fiction itself has yet to catch on among the country's mainstream readers.
Recently, People's Literature published a series of sci-fi stories written by Chinese writer Liu Cixin in its third issue of 2012. It was only the second time the magazine has focused on the literary genre, and this time it quickly aroused interest.
People's Literature, created in October 1949, is China's most authoritative mainstream literature magazine. It has since been renowned as the cradle of Chinese writers.
The first time it published a work of science fiction was in 1978. The story was called Dead Coral Island, written by Tong Enzheng in the 1960s.
On the margins
"When I was reading science fiction online, I found a famous author with the same name as yours," a quizzical coworker told Liu.
Liu, an IT engineer at Niangziguan Power Station in north China's Shanxi Province, kept secret his second life as a writer. His colleagues would never guess that the sci-fi author and Liu were the same person. Liu has long been regarded as a leading figure in the Chinese sci-fi community, winning multiple Galaxy Awards, the highest honor in China's sci-fi field.
However, he has long kept a low profile. In addition to his reserved personality, Liu's obscurity was due to the weak position of science fiction in Chinese literature.
As early as the 1980s, Chinese sci-fi writers had created many excellent works that became popular with readers. But they still felt marginalized and were not invited to literature forums, said Wu Yan, Chairman of the World Chinese Science Fiction Association (WCSFA) and a professor at Beijing Normal University.
The situation has yet to change. For decades, science fiction has been dismissed by literature purists.
It's no surprise, then, that the People's Literature issue containing four of Liu's science fiction stories as a thematic feature saw an outpouring of overdue attention.
The magazine's publishing of Liu's works was not done on a whim. While critics exaggerated the difference between so-called traditional mainstream literature and science fiction, there really was no substantial conflict between the two, said Li Jingze, editor-in-chief of the magazine.
Li noticed Liu's works when he started Pathlight, the English edition of People's Literature created to light the path of China-Western cultural exchanges. He was soon hooked by Liu's creativity.
Although literature has no exact standards, it does have certain prominent characteristics—namely a brilliant and original imagination, Li added.
Echoes
"Science fiction focuses on the impact of the city, technology and future on the people. This is rare in mainstream literature," said Han Song, Deputy Director General of the Home News for Overseas Service Department of Xinhua News Agency.
Science fiction as a literature device emerged during the industrial era. Whereas romance, martial arts, detective and fantasy novels are rooted in Chinese history and culture, science fiction sprang out of contemporary life.
The reason People's Literature is focused on science fiction is to restore traditions of literature like imagination, storytelling and readability, said Han.
"If we combine these traditions with the modern life in the industrial and post-industrial age, we could see unexpected responses," said Han.