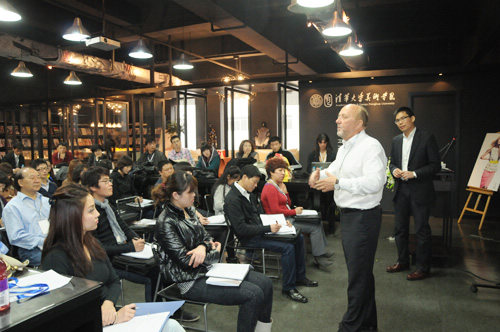 ADVANCED STUDY: A foreign expert gives instructions to a garment enterprise president workshop at Tsinghua University (COURTESY OF ACADEMY OF ARTS AND DESIGN AT TSINGHUA UNIVERSITY)
Summer holidays often mean more schoolwork for students in China, but a growing number of them are pursuing their summertime studies abroad. Cui Yiru, a 15-year-old girl from Hangzhou, has traveled and studied in Australia, Britain and the United States, and plans to attend a study tour in Spain this holiday. Her studies abroad helped broaden her social circle and enhance her self-confidence by learning together and talking with foreign students.
"After I came back from Britain, I made up my mind to major in art and become a fashion designer," Cui said.
Though it is costly and disputable in its effect, study tourism has become a kind of fashion in China in recent years. Latest statistics from an overseas study service agency in Zhejiang Province shows that the number of students participating in overseas studies through the agency reached 3,000 this summer, a rise of 80 percent over last year.
Chinese students attend overseas study programs either through government or corporate sponsorships or self-funding and various exchange programs.
Meanwhile, Sino-foreign cooperative education programs have flourished in recent years, giving many Chinese students a chance to receive a foreign education at home.
For instance, Wuhan University of Technology (WUT) launched a joint education program on artistic designing with the University of Wales (UW) in Britain two years ago. Being among the first batch of joint education programs approved by the Chinese Ministry of Education and with the same admission criteria as the UW, it arranges the students to complete their four-year studies in the WUT and is entitled to grant the UW's bachelor's degree in artistic designing.
Global cooperation
Not long ago, some students of the Academy of Arts and Design at Tsinghua University (AADTU) earned sponsorships from Kopenhagen Fur (KF), the world's leading fur provider based in Copenhagen, Denmark, for a short-term study program at the joint fur designing lab, the first of its kind in the world set up by the two sides in 2007.
Torben Nielson, chief executive of KF, said KF appreciates its cooperation with AADTU and would like to cooperate with AADTU to cultivate young Chinese designers and promote the development of China's fashion industry.
The global fur giant provides the lab with raw materials, tools, equipment, samples and textbooks, as well as professional teaching staff. It also invites world-renowned fashion designers and artists to give lectures and sponsors exchange programs between AADTU and KF.
Xiao Wenling, Director of the Department of Textile and Fashion Design of AADTU, said, "Our cooperation with KF helps us keep up to date in fashion design teaching and stay at the forefront in the industry."
In fact, AADTU is outstanding at cultivating fashion designers in China. Many well-known active Chinese fur designers are its graduates—an advantage for the cooperation program.
"The lab aims to provide a better platform for academic exchange," said Cui Zhaokun, KF's General Manager for China. He added that cooperation between the two sides in the last five years has been fruitful, with many of its graduates earning prizes in both domestic and international fashion design contests.