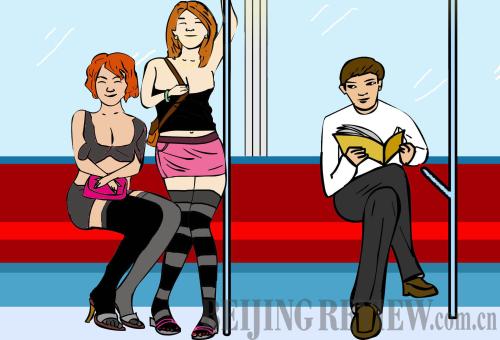 (LI SHIGONG)
On June 20, Shanghai municipal subway authorities posted a photo on its official micro-blog showing a woman wearing a black see-through dress, with her bra and underwear visible. The photo came with a caption reading, "Scantily clad women attract molesters." Several women in Shanghai protested the statement by carrying posters with slogans like, "I can dress provocatively, but you can't harass me."
The public incident raised debate over whether racy outfits are an invitation to sexual harassment, and how well the Shanghai subway authorities have handled the issue.
Some people support the stance of subway officials, arguing that females should follow common sense and dress appropriately when going out in public. Young women today wear sexy clothes like mini-skirts and low-collar tops, which can be quite alluring. Some men see their outfits as an invitation to molest them. According to this view, the subway authorities are simply warning women of the dangers associated with dressing suggestively.
Meanwhile, there are opposing voices against the subway notice. They think neither laws nor authorities have the right to dictate how females should be dressed.
Pervert prevention
Sun Yewen (www.caixun.com): During rush hour, subways in big cities like Beijing and Shanghai are packed with people. In such a densely crowded space, sexual harassment is nearly unavoidable. While it is the subway authority's obligation to protect passengers' safety, Shanghai's subway officials took controversial actions. Many females argue that their choice in clothing does not excuse harassment, and their point is valid.
Shanghai subway authorities meant to remind women of proper dress, but the statement posted on their micro-blog was off the mark: "When women dress this way, sexual harassment is unavoidable." The statement implies, first, that women in revealing clothes will incur harassment from men; second, that there are a lot of sexual predators in the subway. This assumption is disrespectful to men. Most men wouldn't harass a woman for wearing a sexy outfit. If a man is really interested in sexual harassment, he will target even those dressed properly.
As for "sluttish" fashion styles, opinions differ greatly. But most people prefer not to see scantily clad women on the subway. The subway is public transportation, and its job is to serve the public. Thus, Shanghai's transit authorities do have the right to set standards of what passengers can wear. Many companies have strict dress code policies, partly to avoid scandalous clothing. Subway officials may work out detailed regulations to address female passengers' clothing and reject those who are improperly dressed.
The subway announcement had good intentions, but the way it was presented is offensive. In mitigating social conflicts it's necessary to crack down on subway molesters, but there should also be a consensus on how women should dress on the subway.
Liang Yiting (www.xinhuanet.com): On a crowded subway it can be difficult to gather evidence of sexual harassment, so these incidents tend to occur in crowded environments like on a subway train. Molesters can take inappropriate photos of females in secret and escape without punishment.
In South Korea, in the first five months of 2011, sexual harassment accounted for 64 percent of all subway crimes, up by 22 percent compared with the same period of 2010. Statistics also show that 50 percent of subway molesters are repeat offenders. Subway sexual harassment stands as the highest among all kinds of sex-related crimes. Authorities and subway operators around the world are trying various means to deal more effectively with molesters.
The United States, France, Australia, Canada and Japan have laws explicitly targeting sexual harassment. Japanese law stipulates that judging sexual harassment does not necessarily require direct evidence; if the allegation is credible, indirect evidence can also be used. Apart from legal regulations, posters are set up at subway stops reading, "Sexual harassment is a crime" in efforts to try to dissuade potential molesters from acting on their impulses. In order to provide female passengers a safe environment, some private subway companies offer women-only compartments, usually at the front or back of the train, in pink or with flowers printed on them.
To curb sexual harassment using legal means is only one way, but experience shows that the most powerful weapon to cope with sexual harassment is the victim's courage in fighting against molesters. Experts say that in the daytime, women who sternly warn molesters will usually be left alone after shaming the assailant. Of course, females should first pay attention to their personal safety, so in the evening or in subway cars with fewer passengers, they should avoid direct conflict with molesters, and should instead leave at the earliest opportunity.
Ladies, mind your dress!
Ma Zhihai (Guangzhou Daily): What sparked protest from women was likely the subway announcement's improper wording, which was interpreted to mean, "Sexy dressing is seduction." The micro-blog was strongly opposed by females, who are following modern fashion norms of wearing less in the summer. They believe it's their free choice to decide how to dress, and that men should restrain themselves from saying or doing anything offensive. However, the Shanghai's subway authorities seem to suggest that women have a responsibility to dress a certain way so as not to allure men into assaulting them.
Sex crime rates rise in the summertime, which has been proven by statistics in many countries. In this context, it seems unwise for women to protest by saying, "I can dress provocatively, but you can't harass me."
Li Qiang (www.people.com.cn): Following the subway molestation incident, one side supports the Shanghai subway authorities' message and the other says the subway is skirting its responsibilities. Instead of posting a surprise warning on its official micro-blog, it should be working out more effective measures to curb sexual harassment.
Since May, the Shanghai subway has witnessed seven sexual harassment incidents, which may be underestimated due to most women preferring to stay silent. By putting up the photo and the warning on its official micro-blog, the subway authorities intended to protect female passengers or encourage them to protect themselves, but it was carried out in the wrong way.
As for the two young ladies who protested in the subway, we respect their right to do so. However, I do not think their opinion represents all female passengers. Stating the issue as, "I can dress provocatively, but you can't harass me" is not elegant language. To protest the subway authorities in this way, instead of expressing their pursuit for justice, they are not helping the situation. Because of their performance art, people are asking whether sexual harassment should be blamed on scantily clad women, instead of men.