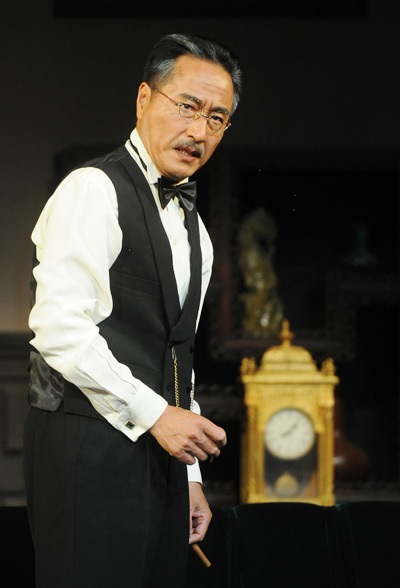 SHOW TIME: Yang Lixin plays Zhou Puyuan in Thunderstorm in Moscow, Russia, on June 2, 2011 (CFP)
The classic play Thunderstorm concluded in downtown Beijing's Capital Theatre to appropriately thunderous applause.
Thunderstorm was performed for eight days beginning in mid-June and is one of the theater's many classics performed on stage annually. Yang Lixin, who plays the lead character named Zhou Puyuan in the drama's second revival, says it is his most challenging role ever. The show is even more significant for being a tribute to Beijing People's Art Theatre (BPAT), which he calls "home." Yang is currently head of actors and actresses of the theater.
Published in 1934 by playwright Cao Yu, one of the theater's founders and its first head, Thunderstorm tells a story set in the 1920s about a secret love affair, an illegal business and unethical love. Twisted relations among eight characters tell of the torturous affairs between two families spanning 30 years.
Born in 1957 in Beijing, 55-year-old Yang loved to listen to Peking Opera via radio since childhood. At age 17, he enrolled in BPAT as a trainee.
In the mid-1970s, television was a luxury for ordinary families. In the absence of TV's many distractions, Yang and his fellow trainees devoted their energy to learning performing arts from the theater's veteran actors.
The first role that Yang played was a non-speaking role as a military officer. His only act, according to the script, was to run from one side of the stage to the other.
"To be honest, I never envied those leading actors in the center of the stage. I was actually in awe of them," Yang told Beijing Review at BPAT's backstage. "The pressure and responsibility of a leading role was way too much for me at the time."
Since the end of the cultural revolution (1966-76), BPAT had resumed its full repertoire. In May 1979, Thunderstorm staged a comeback.
"When I watched the brilliant performances of senior actors, I could not imagine getting the chance to play a leading role. I knew there was a long way to go," said Yang.
Yang continued playing minor roles with hardly any speaking lines, or even names. But this did not hamper his passion for drama. He watched and learned from veteran actors at the theater, and read books in his spare time to find inspiration for potential dramatic roles.
The dedicated young actor finally got his first major role in 1980. In Sunrise, another masterpiece by Cao, he played Fang Dasheng, a character whose appearance was left unspecified by the playwright. Yang said his performance skill and grasp of the script and character were merely passable.
"If I could play that role again today, I would put more thought into it and research more carefully," Yang reflected.
For over 10 years leading up to the mid-1990s, Yang played several smaller supporting roles—a good thing from his perspective.
"I don't believe a person can perform well without first gaining experience both on stage and in life," he said. "An actor's capability and responsibility should be nurtured simultaneously, because every little step adds up to a big leap forward."
In addition to theater performances, Yang also appeared in TV series and movies. In 1994, he became known to millions through the popular Chinese show I Love My Family, in which he played a middle-aged father.
The 120-episode sitcom, the first of its kind in Chinese TV history, featured an ordinary Beijing family of three generations who lived under the same roof. The plot covered relevant topics and social phenomena such as the aging population, one-child policy, migrant workers, education reform, lottery fever and studying overseas. Many episodes still resonate with viewers today.
Despite his sudden fame and lucrative contract offers, Yang's focus on drama remained unchanged. He devoted more than half of his professional life to the stage.
Yang said his participation in the second revival of Thunderstorm was coincidental.
The year 2004 marked the 70th anniversary of the script's launch and the 50th anniversary of the drama's debut. BPAT planned a revival with Gu Wei, who played the leading role of Zhou Puyuan in the first revival in the late-1980s, as the director.