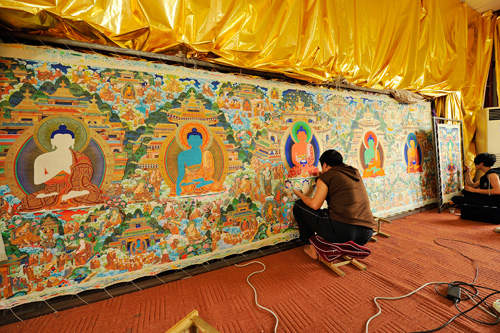 TWO-YEAR DEVOTION: A thangka master from Qinghai Province spends two years painting this 5-meter-long and 1.3-meter-wide thangka (SHI GANG)
The 20-square-meter classroom is bedecked with golden cloth and the atmosphere is thick with the strong smell of animal glue. A shrine to Buddha sits at the entrance of the classroom and religious music softly plays in the background. Teacher Pedma painted Tibetan thangka embroidered scrolls with his students inside a courtyard in Beijing's Huairou District on June 1.
Students concentrated on drawing pictures, some in groups and some individually, coloring the paintings, drawing with slender calligraphy brushes, and tracing copies of thangka with a pencil.
"Such decoration in the classroom is to create a monastic atmosphere," said He Bin, deputy head of the Tibetan Cultural Charity Foundation. "Thangka painting is inseparable from devout faith in the Buddha, which is a charm of the art form."
The foundation has operated two terms of classes to enable students to inherit the art, enrolling 48 students from poverty-stricken families in west China's Sichuan and Qinghai provinces, both of which are home to large Tibetan communities.
Thangka is a method of painting featuring religion, history, politics, culture and social activities and is essential to understanding Tibet and its culture.
Since the period of Tubo King Songtsan Gampo in the seventh century, thangka has survived for over 1,300 years.
Originally, thangka was painted with mineral pigments over embroidered tapestry and served as a portable shrine for Buddhist icons, as it was difficult for typically nomadic Tibetans to carry with bulky bronze sculptures or woodcarvings of Buddha statues for worship. Thus, thangka is also known as a "walking Buddha niche."
In 2006, the Tibetan art of thangka was listed among the first batch of national intangible cultural heritage items, drawing attention to its preservation and inheritance.
Learning the art
Two students had been grinding gold powder and foil into lacquer for two days. Painters will use a calligraphy brush to decorate the golden highlights of the Buddha image, and then polish it with a metal pencil to prevent fading.
Grinding is not an easy task, and Pedma refuses visitors on the first day of the process. "It is a custom," he said.
After drawing Buddha's body, clothes, offerings and background scenery, the most difficult technique is to draw the face, as the minute details such as the angles of the eyes, ears, nose and lips are critically important for judging the full expression of Buddhist epistemological concepts.
Despite having colored many paintings, 22-year-old Cédain has never drawn facial features. He is from Longwuzhen Village in Tongren County in northwest China's Qinghai Province, and has studied thangka for seven years.
"I began to learn the art of drawing thangka when I was in Qinghai, and continued learning in Beijing for another two years," he told Beijing Review. "The foundation offered to cover the costs of traveling home twice a year during the summer vacation and Tibetan New Year," he said. He added that his reason for leaving home for faraway Beijing was to learn artistic techniques, study Buddhist principles and paint thangka.
"Failing to draw [the facial features] will spoil a whole painting, so my great expectation is to do the last step of the painting and become a full-fledged thangka painter just like my teacher," said Cédain.