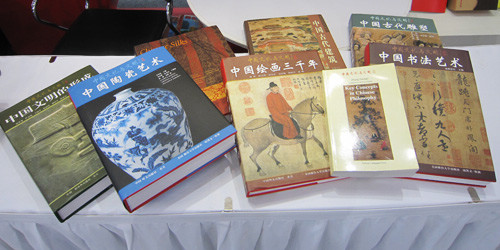 BOOK SHOW: Some of the books of the Culture and Civilization of China series are on display at the 19th Beijing International Book Fair in August 2012 (CHEN RAN)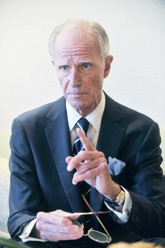 Joseph Verner Reed (WEI YAO)
A seething mass of bicycles flooding the streets left the biggest impression on Joseph Verner Reed during his first visit to Beijing in 1973, a year after the then-U.S. President Richard Nixon's groundbreaking visit to China that concluded with a rapprochement between the two countries. Reed, a self-proclaimed "great admirer of China," has been coming to the world's most populous country frequently ever since in his various roles as a U.S. government official, United Nations official and private citizen.
His most recent Beijing tour put him into the spotlight. On August 28, in a ceremony tied to the 19th Beijing International Book Fair, the incumbent under-secretary-general of the UN won the Special Book Award of China along with five others from Germany, Spain, South Korea and Cambodia. The national award, introduced in 2005, is given to foreign writers, translators and publishers with outstanding contributions to the promotion of Chinese culture and publications to the world.
The project that Reed has been involved with since 1990 is entitled the Culture and Civilization of China, hailed as the largest cooperative publishing effort between China and the United States and initiated by Yale University Press and China International Publishing Group (CIPG). The planned series ranges from painting, architecture, ancient philosophy, sculpture, calligraphy, ceramics and silks.
CIPG was founded in 1949 in Beijing with a mission to introduce China to foreign countries through books, magazines and websites. It has over 20 subsidiaries as well as 12 overseas branches located across the world, constituting a conglomerate of foreign language publishing and marketing.
"I am delighted to be back in Beijing. It is a great honor to win the award. The ceremony was beautifully organized and absolutely sensational," Reed told Beijing Review. "I was so pleased to be a recipient of the award along with my friend and colleague President Richard Levin of Yale University, who could not come because it is now the beginning of the school year."
A breakthrough
Born in 1937 in the United States, Reed was a graduate of Deerfield Academy and Yale University, class of 1961. In 1987, he was appointed under-secretary-general of the UN for political and general assembly affairs. In early 1989, the then-U..S. President George H.W. Bush appointed Ambassador Reed the chief of protocol of the White House, where he served until late 1991.
In late 1980s and early 1990s, distribution of CIPG's multi-lingual publications was halted due to political reasons; several cooperative publishing projects between China and the United States were forced to stop.
However, Reed showed enthusiasm for the project and helped raise funds with his connections and influence in political and business circles in the United States.
More than 300 scholars from the two countries have been involved since 1990. Former U.S. Secretary of State Henry Kissinger was the project's chairman. Eight of Kissinger's successors were among members of the consultant committee. In addition, George H.W. Bush accepted Reed's offer as the project's honorary chairman.
"To do it jointly is not without difficulties," Reed recalled. "We had long discussions and negotiations."
"There were different opinions and interpretations on the subject, but they were all about solving problems through diplomacy and cooperation, and spiritual cooperation," he continued.
"It was a real breakthrough in public diplomacy and cross-cultural communication, which reached far beyond publishing," Huang Youyi, Vice President of CIPG and one of the project's initiators, told Beijing Review.