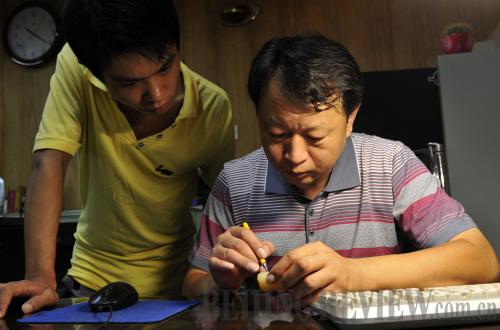 DEDICATED MENTOR: Lang Xiaofeng shows his apprentice how to carve a jade stone at his studio in Beijing (SHI GANG)
Give Lang Xiaofeng a jade stone and he can transform it into a splendid work of art. At his studio in Beijing, Lang was carving a small piece of jade under the light of a table lamp. Around Lang there were many uncut and finished jade sculptures on display.
Lang is a famed jade sculpture artist, and over the past 20 years, he has created several masterpieces, capturing a number of prestigious awards in China.
At Lang's crafts studio in Beijing's Chaoyang District, visitors can find superb jade stone sculptures, from Chinese historic figures to modern Western personages, or animals from a cute toad to an auspicious eagle. These sculptures uncover a life of a traditional jade craftsman unknown to most.
Jade sculpting is an ancient practice steeped in traditional Chinese culture and enjoys a long history of more than 2,000 years. An artist must consider a stone's texture, shape and color before molding it. Often engraved with calligraphy and painting, jade sculptures strive to embody an ancient Chinese essence.
Today, jade is still loved and admired by the Chinese and precious jade artwork is regularly sold at exorbitant prices at jewelry markets. China's jade sculptures are famous worldwide for their exquisite detail. In 2006, the Chinese Government classified many jade sculptures as part of China's intangible cultural heritage.