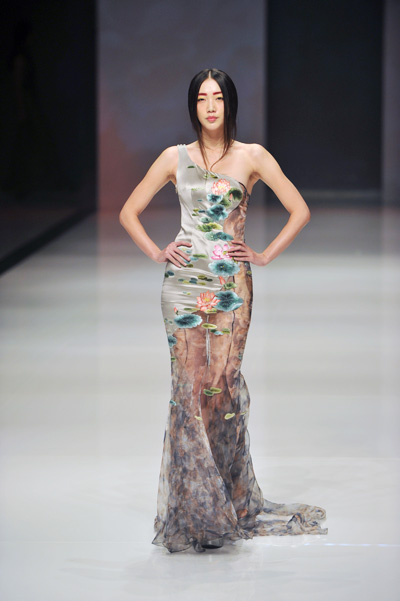 NE·TIGER SHOW: A model showcases an NE·TIGER piece with lotus flower designs on October 25 (CFP)
Stunning beauties in splendid traditional Chinese dresses by luxury designer NE·TIGER opened China 2013 Spring/Summer Fashion Week with a collection showcasing traditional Chinese designs.
This year's fashion week ran from October 25 to November 3, displaying the works of 51 well-known designers from home and abroad.
NE·TIGER Fur Fashion Co. Ltd. specialized in fur designs in its early years. Aiming to reinvigorate fashion in China, NE·TIGER created a new type of clothing in 2007 called huafu—or "splendid dress"—which blends traditional Chinese paper cuts, knots, brocades and tapestry with the Western three-dimensional stitching method. Zhang Zhifeng, founder and Chairman of NE·TIGER, said this year's designs drew inspiration from the culture of the Song Dynasty (960-1279).
"People in the Song Dynasty loved flowers, which shows their admiration of nature. This year we have added a floral element to our dresses. Compared with our previous designs, which often used reds and blacks, this year's designs feature more pinks and light greens," Zhang said.
"We have tried to make our clothes simple, which echoes the love for natural beauty in the Song Dynasty.
Yu Ximan, a famous color consultant and Chairwoman of Ximan Color Co. Ltd. praised NE·TIGER for essentially reviving traditional Chinese fashion elements.
"In history, we have passed on our culture of dress to Japan and South Korea, but today traditional Chinese style, fashion and modes of dressing have been lost. Most of the clothes we wear today come from or are influenced by the West," Yu said.
She noted that NE·TIGER has revived a Chinese sense of style by incorporating traditional cultural elements to its designs. She hopes more fashion houses would follow in NE·TIGER's steps.
Email us at: jijing@bjreview.com