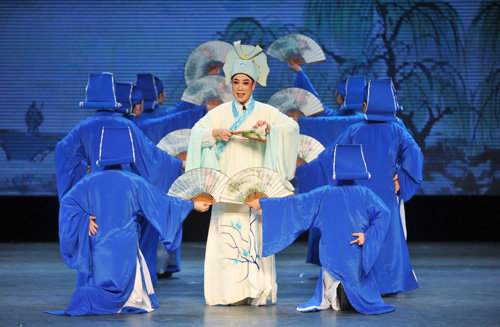 THE STAGE: Cheng Yuanna performs a leading role in The Butterfly Lovers, a classical Chinese love story, in Beijing on November 4 (WEI YAO)
Cheng Yuanna enters the dressing room at the Culture Center of Xicheng in Beijing one Sunday afternoon and immediately begins delegating tasks.
She instructs the volunteers on where to place the stage props and orders her performers to put on their makeup and costumes.
A bank worker during the week, Cheng passes her weekends as head of the Beijing Hundred Flowers Yueju Opera Troupe, an amateur performance group consisting largely of middle-aged women.
"Until the show is over, we shouldn't eat anything from the late morning in order not to ruin our makeup," says Cheng as she puts on her face. "We're quite used to feeling hungry during rehearsals and performances."
More than just a hobby
The troupe was founded in 1998 and is made up of amateurs with a passion for Yueju opera.
Yueju opera is a traditional Chinese opera originating from east China's Zhejiang Province. Cheng's amateur troupe is largely unknown in Beijing, where the more estab-lished Peking opera prevails.
Cheng has been the troupe's leader since 2010. "Two features make us unique," Cheng said. "First, our members are women from all walks of life. Second, the average age is above 45."
Cheng's love for Yueju opera goes back 30 years. In 1982, Cheng saw the Yueju opera film The Dream of Red Mansions, an adaptation of a classic novel of the same name, and became fascinated.
"Although I was born in Beijing, I like Yueju opera very much. It has a rich flavor of elegance and beauty that belongs to south China's Yangtze River," Cheng said. "Unlike Peking Opera, Yueju opera is more suitable for females to perform and more attractive for a female audience because of its focus on love."
"In my spare time, I taught myself how to sing some of the movie's classic songs. But learning this way wasn't feasible, so I attended a Yueju opera training program," Cheng recalled.
The training class ignited Cheng's dream of performing Yueju opera on stage, although she harbored no ambitions of becoming a professional singer.
"Singing Yueju opera is my life but not my job. I want to enjoy it without the pressure."
Running the troupe is no easy task, however. As a non-profit group, the Beijing Hundred Flowers Yueju Opera Troupe relies on outside funding. Cheng herself has donated tens of thousands of yuan to keep the group running.
Every show is a big event for the troupe and its supporters. The troupe's friends and family contribute their part for each show, including guiding the audience to their seats, video-recording the performance and moving objects on and off the stage in between scenes.
"I greatly appreciate my troupe fellows and friends. Without their support and trust, the troupe would not be where it is today," Cheng said.
Apart from being a hobby, the troupe is a source of spiritual comfort to some. Dai Lina, 27, who works as a product manager for an international corporation in Beijing, is a new member of the troupe.
"I was born in a small town in Zhejiang Province. Though I listened to Yueju opera when I was young, I wasn't interested in it until last year," Dai said. "I was the only one in my family who wasn't fond of Yueju opera."
Dai's father passed away last spring. His last wish was that his daughter look after her grandparents. Whenever she found a few days to spare, Dai returned home for a visit but found that a massive generation gap limited interaction with her grandparents.