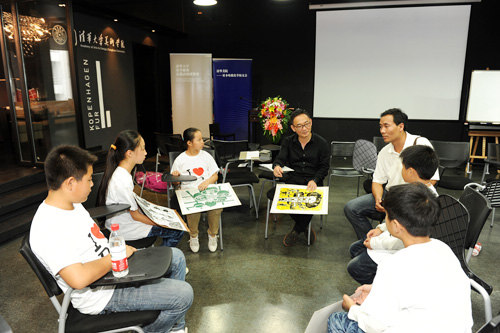 EXCHANGING IDEAS: Professor Xiao Wenling (center) from Tsinghua University talks with students from Xinhualu Primary School (XU MEI)
A group of children with a flair for the arts took the unusual step of attending an event at Tsinghua University that could one day impact the way primary and secondary education is taught in schools across the country.
The students are from Xinhualu Primary School in Xinzheng, central China's Henan Province and are skilled at the art of engraving—or carving or etching a design into a piece of wood or metal plate using a chisel or chemicals.
Under an education system focused on preparing for exams and little else, these artistically inclined children illustrate what could be the future of education in China.
The event—an alumni association ceremony co-established by the Academy of Art and Design at Tsinghua University and Kopenhagen Fur, an international fur skin provider—was aimed at accomplishing one thing and one thing only for Cui Zhaokun.
"In the future, we will invite these students to come to Tsinghua University to work on cultivating a sense of creativity through a fine arts education," Cui, Director of the fur house's Beijing office, said.
Accomplishing such a feat may be easier said than done.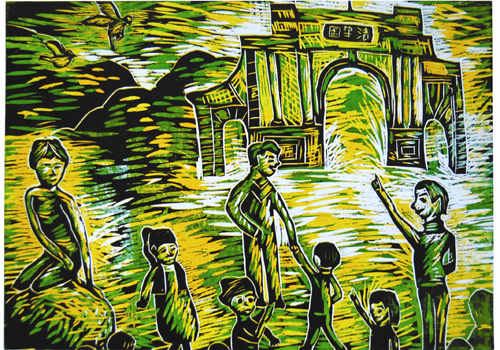 A Tour at Tsinghua University, made by 12-year-old Zhao Yuqi (ZHAO JIANYONG)
Fine arts dilemma
The students attended the event to receive a special fund set up by Kopenhagen Fur to help disadvantaged students from Xinhualu Primary School. The school has established a long-term cooperative relationship with the academy.
"I hope that in 10 years, you can come to study in our department," Professor Xiao Wenling, Director of the Department of Textile and Fashion Design at the academy, told students at the event.
"These children have huge potential. If we guide them properly, their talent will certainly be brought into full play in the future," Xiao told Beijing Review.
Schools in Xinzheng began teaching engravings and promoting the artwork to the public in 1984. Although the local government has allocated funds to build a children's engraving museum—the only one in China— for this school, it still lacks funds for teaching equipment, teacher training and academic exchanges.
The difficulty faced by the school in carrying out art courses is common across the country. Art courses in many schools are often canceled because students are not tested in the arts on the gaokao—the national college entrance examination that all high school students who wish to attend university must take. Many parents believe fine arts skills are irrelevant to a top gaokao score, expecting their children to focus on building their math and science skills and expanding their English vocabulary.
"Many teachers in China believe that they need to cultivate creativity in young children. However, only university students with majors in artistic design can receive systematic creativity training," said Yang Hong, head of the Yang Zhiguang Fine Arts Center in Guangzhou, capital of south China's Guangdong Province, a children's fine arts training school. "We should improve the nation's creativity by strengthening creative education for children."
Experts have repeatedly stated that if China wants to continue developing, it should foster creativity. However, the present educational system focuses more on memorization and less on creative thinking.