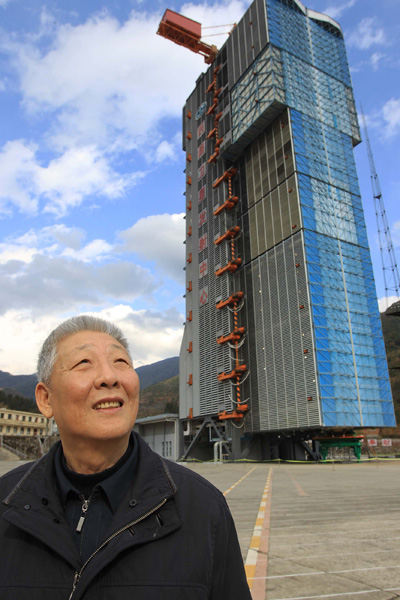 READY TO FLY: Sun Jiadong observes the weather at the Xichang Satellite Launch Center, southwest China's Sichuan Province, where a Beidou satellite is about to be launched on December 15, 2010 (LI MINGFANG)
Despite his ripe age of 83, Sun Jiadong, a renowned scientist in China's aerospace field, is still as busy as ever. In mid-November, Sun flew to Shenzhen, south China's Guangdong Province, to attend the China Hi-tech Fair as the chief designer of the Beidou Navigation Satellite System, also known as COMPASS.
In the exhibition hall, Beidou attracts a throng of visitors. Recently, the 16th Beidou satellite was launched into space by a Long March rocket on October 25, marking another major achievement in the development of China's own navigation satellite network covering the Asia-Pacific region.
China has launched four experimental satellites and 16 navigation satellites in space so far. The Beidou system has been in service in China for five years and it will start to provide positioning services for the whole Asia-Pacific region next year.
Guiding star
Sun, a member of the Chinese Academy of Sciences, is wildly proud of Beidou, which is the third positioning system put into service, following the Global Positioning System (GPS) (the United States) and Global Navigation Staellite System (GLONASS) (Russia). The European Union also is developing its positioning system called Galileo.
"China is a rising power of aerospace science and technology. The country was able to establish its own independent satellite navigation system," said Sun.
In the 1980s, China created a three-step strategy for its Beidou satellite navigation project, said Sun. During step one from 2000 to 2007, four Beidou-1 satellites were launched into geostationary orbit for experimentation. In step two, China is to establish a navigation and positioning network consisting of 16 Beidou-2 satellites for the Asia-Pacific region by the end of 2012. And in step three, a global network would be made up of 35 Beidou satellites by 2020.
"The project is now two-thirds complete," said Sun.
Compared to other satellite navigation systems, Beidou has its own unique features. Unlike GPS, which only relays signals, Beidou users are able to send messages to the system directly through their devices. Terminals can communicate with each other as easily as using a cellphone or fax machine.
The Beidou system was put to tremendous and life-saving use during the catastrophic Wenchuan Earthquake in May 2008. The earthquake damaged most of the ground communication facilities, leaving communication between disaster-hit areas and the outside completely interrupted.
Rescuers thus went to disaster-hit areas carrying Beidou terminals and were able to send information to the rescue headquarters quickly.
The second generation of Beidou has been significantly improved. Its message function even extends to microblogging websites. If a user sends a message to the cellphone of a microblog user, the system will automatically update the message on the microblog. The message function is very important for those who are traveling in remote areas or on the ocean. If their cellphone isn't functioning, they can maintain contact through Beidou.
Moreover, Beidou is backwards compatible: Users can shift to GPS easily.
"Along with the advances in technology, Beidou will be put into broader use over the next two years," said Sun, adding that the satellite system will provide service for the Asia-Pacific region in 2013 and Shanghai will build a testing center for the satellite.
"In the near future, Beidou will be installed on vehicles such as taxis, chemical cargo trucks and armored cash carriers," said Shen Xueming, Director of Shanghai Engineering Center for Microsatellites and the man responsible for the Beidou's services in Shanghai.