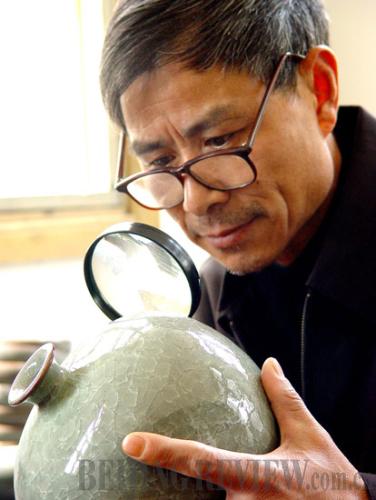 PORCELAIN PROFICIENCY: Chen Tangen carefully examines a handmade celadon pot (FILE)
Science and technology have ascended to an unprecedented level in modern life, but the ancient study of ceramics continues to perplex some of its most advanced experts.
Celadon, a type of ceramic ware featuring a glass-like glaze and a grey or greenish color, is one example of an artistic material with a mystical quality. The kind of porcelain was invented in Longquan, east China's Zhejiang Province, and spread to other regions around the world. Celadon ware with cracked-ice glaze is a highly valuable work that requires complicated production techniques. The craft had disappeared in China for about two centuries until ceramics master Chen Tangen revived the cracked-ice celadon technique in 2002.
In September 2009, the United Nations Educational, Scientific and Cultural Organization (UNESCO) inscribed the traditional firing technology of Longquan celadon on its Representative List of the Intangible Cultural Heritage of Humanity. It is the only porcelain craft to have made the world-famous list.
Precious heritage
In China's long history of porcelain crafts making, celadon occupies an important place. Longquan has been a ceramic center in China ever since the fifth century.
The golden era of Longquan celadon occurred during the Song Dynasty (960-1279). Countless ceramic works made in Longquan were exported to many regions in Asia, Europe and Africa, winning worldwide acclaim in the art market. Over 360 ancient celadon kilns, known to historians as Longquan Kilns, have been constructed in the city. A series of historical records detail the production of celadon, including the highest quality and largest amount of sales.
However, due to the rise of blue-and-white porcelain in China and the seclusion policy of the Ming Dynasty (1368-1644), the export of Longquan celadon dropped sharply and the special kilns for former imperial households of the Song Dynasty were closed down. The remaining kilns changed to make more common but lower-quality wares for local markets. As a result, the technologies and skills related to classical celadon were gradually lost as the product went out of fashion. Only a collection of rare celadon antiques remained.
Rebirth
Chen Tangen was born into a ceramics artisan's family in Longquan in 1949.
Beginning in his childhood, Chen Tangen learned the craft from his father.
In the 1950s, many foreign experts who visited China inquired where they could find a type of ceramic ware called xue la tong. Chen Wanli, a well-known ancient porcelain expert at the Palace Museum, then identified it as Longquan celadon.
The long history of Longquan celadon was thereafter rediscovered as one of the most important porcelain products in ancient China. Its glittering green color and cracked glaze once again captivated art lovers around the world.
After hearing of the trend, the then Premier Zhou Enlai told the Light Industry Ministry to restore the production of Longquan celadon as soon as possible. The Longquan Kiln and four other well-known ancient kilns were put back into production in 1957.
Uncovering mystery
In 1964, Chen Tangen went to work in the state-owned Longquan Ceramics Factory. In the ensuing four decades of his porcelain-making career, Chen Tangen saw the revival of Longquan celadon first hand.
The most unique feature of celadon is undoubtedly its vibrant glaze. "To create the beautiful color, an artisan must first experiment countless times. There is no shortcut," said Chen Tangen.