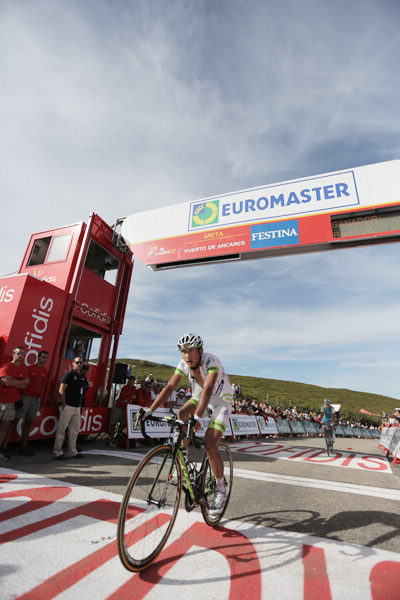 TOUR COMPLETED: Ji Cheng, representing the Netherlands-based Argos-Shimano Team, competes in the 2012 Vuelta a España (Tour of Spain). Despite placing last, Ji is the first Chinese road cyclist to finish a Grand Tour (COURTESY OF JI CHENG)
For more photos please click here
Ranking at the bottom in a sport event does not always mean  "loser," especially not for rider Ji Cheng. Despite his 175th position, the last on the final list, the 25-year-old made history at the 2012 Vuelta a España (Tour of Spain) by becoming the first Chinese to ever race and finish one of the world's three top Grand Tour road bicycle races, which also includes the Tour de France (Tour of France) and Giro d'Italia (Tour of Italy).
While number 199 indicated Ji as one of the lowest-ranked riders at the event, he managed to battle through the Vuelta's 19th stage after a crash and was awarded the honor for most combative rider on September 7. His final result was 4 hours, 32 minutes and 35 seconds behind the all-time Grand Tour winner Alberto Contador, who claimed his second Vuelta title on home soil.
Performance anxiety caused Ji two sleepless nights before the start of the 21-stage tour, which ran from August 18 to September 9. Previously, the longest tour that he had raced was 10 days.
"The perceived pressure came from every direction—the media, the team, the sponsors and even myself," Ji told Beijing Review in late November before returning to the Netherlands for training.
"Finishing the 3,360-km tour was the only goal in my mind," he recalled. "I did my part and I was happy. The ranking did not really matter."
"Little by little he has gained experience in the big European races and to finish the Vuelta is very positive for him," Javier Guillen, Director of Vuelta a España, told Beijing Review. "The least important thing is that he finished in the last position. What we have to emphasize is that he completed the tour and learnt valuable lessons for the future."
Ji's hometown is situated in northeast China's Heilongjiang Province, where winter sports have been a popular choice among teen athletes due to local geological conditions. Ji, however, chose middle-distance running. "I was scared by an 'evil coach' when I was watching a snowboard training session before choosing a sport category," he said with a smile.
In the early 2000s, few people in China, better known as the "bicycle kingdom," thought of cycling as a sport, most instead viewing it as a decades-old transportation tool. Ji, with several 1,500-meter race medals under his belt, was no exception until he was introduced to the cycling team in 2002 after his own team disbanded. The transfer, however, was seamless and he won his very first cycling medal at a national youth competition later the same year.
Ji's career reached a turning point in 2007. Under a partnership scheme between the Chinese Cycling Association and the Netherlands-based Skil-Shimano (today's Argos-Shimano which Ji represents), Ji, alongside two peers, was selected to train and race in Europe, where cycling has taken root over the course of centuries and the Grand Tour was born.
"The team was newly launched and hungered for young, promising and responsible riders to develop and expand," Ji explained. Usually, it takes eight to 10 years for a team to train a professional rider without major injuries.
Communication with team members, who came from all over the world, became the first barrier for the newcomers as neither Ji nor his peers could speak English fluently. Compatriot Jin Long, 29, who joined the same scheme one year earlier, lent them a helping hand in both training and everyday life.
Unlike trainings at home where riders follow instructions without question, team training schedules were more flexible which meant riders could decide content themselves after discussions with coaches.
Ji said he seldom followed training routines because of the unpredictable Dutch weather. If cross winds proved too strong for road training, he would consult his coach and take part in indoor fitness exercises instead.