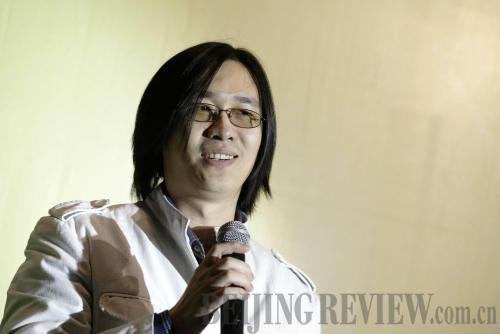 ONLINE REPUTATION: Internet novelist Zhang Wei delivers a speech at an event in Beijing on December 19, 2009 (CFP)
Which local author made the most money via Internet novels during the past five years? The answer was Zhang Wei, pen named Tang Jia San Shao, who earned 33 million yuan ($5.3 million) between 2007 and 2012.
It was revealed in the 2012 Chinese Writers Income list compiled by Huaxi Metropolis Daily in Chengdu, Sichuan Province, on November 26.
The list was set up by well-known young publisher Wu Huaiyao in 2006 and lists the top 20 online authors, with average age at 31, by income, which ranges from 33 million yuan to 2 million yuan ($321,000). Total combined income over the past five years comes to 178 million yuan ($28.5 million).
Considering the low payment for Internet literature, 0.014 yuan ($0.0022) per 1,000 characters, Internet novelists must be both diligent and hardworking.
"The history of China's online literature is more or less 10 years. At the very beginning, the payment for Web novelists was very small. Their incomes grew with the development of online reading habits. It's only been three to five years since readers started paying for e-books," Wu explained.
Along with the spread of Internet access, the number of local online novelists is rapidly increasing. However, how do people define online novelists? According to Wu, "it depends on whether their works are published on the Internet and if it gets read via online media sources."
Generally speaking, Web novelists publish through contracted online media, tasked to attract readers to their works. This is one of the few ways in which they can make money.
In comments on the list's significance, Wu claims it will encourage the development of Internet literature and help grow originality. "The general public knows little about Web novelists and often views them with prejudice. How can it be real literature? Our list aims to address this very inquiry."
Doubts
One of the problems is that Internet novelists seldom enjoy widespread fame. Most people have next to no idea who the writers on the list are. The reason for this is simple. Web novelists never write under their own names, instead making use of often absurd pseudonyms such as I Eat Tomato, in the case of the second most successful candidate on the list. Listed writers can also be as young as 23 or as old as 40, which causes extra confusion.
In addition, the public doubts the income of online authors.
"I promise the statistics are reliable," Wu hastened to affirm. "We calculated overall incomes, including salaries and royalties, with relation to published material."
"Each Web novelist has a different salary standard as contracted by specific literature companies. We have investigated them one by one," he added
"Earnings can take many forms and, apart from salaries and royalties, include money made from adapting work for video games or TV series. We spent more than half a year on the survey. In order to obtain accurate statistics, we interviewed a large number of Internet literature sellers, publishers, book wholesalers and book stores in Beijing, Shanghai and other major cities. In short, we made every effort to ensure accurate results," Wu said.