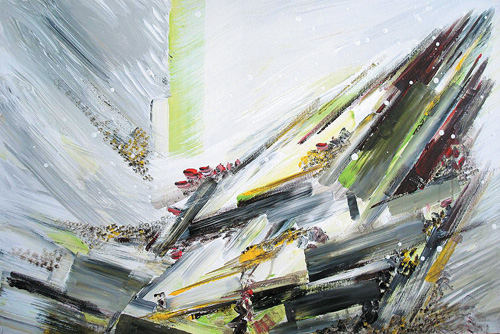 FREEDOM OF THE SKY: Birds soar across the paper (COURTESY OF HONG XUGUANG)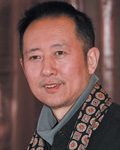 Hong Xuguang (COURTESY OF HONG XUGUANG)
"For an artist like me, the most important thing is the pursuit of change," Hong Xuguang said during an interview with Beijing Review several days into 2013.
Hong's Beijing studio is filled with paintings and calligraphy, which hang on walls and stand in corners. Most of the work he refers to as "modern ink-colored painting."
The artist was born in Wendeng, east China's Shandong Province, during 1959. In 1983, he graduated from Hubei Fine Arts Institute (HFAI), majoring in Chinese painting before taking up a position as art teacher at a university in the south for 10 years.
HFAI is famous for its sketching classes: Its students often rank tops in contests. As an alumnus, Hong's sketch work has been included as examples in university text books.
The artist spent most of the 1980s capturing scenes from across the country.
"I like sketching people or landscapes while traveling," Hong said. "It has become a habit of mine."
In addition to sketching, he has focused much time on studying ink painting, calligraphy, photography and graphic design over the past decades.
"If I adhered to only one type of art, I would never have formed my own style. I think it's good to experiment," Hong explained. "Perhaps deep down I'm just a rebel."
Hong, with a thirst for learning, left China for Europe in the 1990s to further his studies over the course of eight years.
During this time he visited many cities, absorbing Western culture as well as classic and modern art. It was at the Technical University of Munich (TUM) that he first came to grips with graphic composition, which came to play a significant part in his later paintings.
"My time at TUM had a major impact on my style," Hong said. Germany played an important role in the development of modern art during the early 20th century via establishments such as the Bauhaus Movement of 1919.
"As far as painting goes, Western artists often pay more attention to composition, while the Chinese emphasize painting as an experience, resulting in relatively loose structure," he explained.
"One of the most important lessons I learnt was the necessity to follow the times and pay attention to composition," he said. "Studying in Germany was an uplifting experience for me."
To broaden his horizons, Hong traveled to Australia and Singapore to attend advanced studies. "I like to learn from different cultures and art," he said.
During this time the artist discovered a common lack of knowledge concerning Chinese ink painting. "In many foreign eyes, all such work looks alike. For this reason, European galleries seldom display ink paintings. "I think there is a cross-cultural obstacle," Hong stressed.