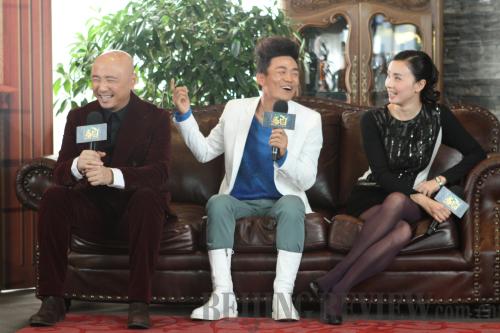 THE LOWDOWN: The main actors of Lost in Thailand Xu Zheng, Wang Baoqiang, and Tao Hong (from left to right) answer questions about the movie at a press conference on November 13, 2012 (FILE)
The low-budget comedy Lost in Thailand has raked in 1.1 billion yuan ($177 million) since its debut on December 12, making it the highest-grossing domestic film in history. It also overtook James Cameron's 3D Titanic as the top-earning film in Chinese theaters in 2012. With local enthusiasm for the movie still on the up, it is also expected to break the 1.4 billion yuan ($225 million) box office record set by Avatar in 2010.
The film has outperformed several big-budget movies such as Feng Xiaogang's Back to 1942, Jackie Chan's adventure movie Chinese Zodiac 12, invigorating the domestic movie industry in its fight to compete against foreign imports. Statistics from the State Administration of Radio, Film and Television showed that from January to October 2012, domestic movies accounted for 41.4 percent of total box office sales in China, a sharp drop against the previous year.
The comedy features two businessmen from Beijing, Xu Lang and Gao Bo, who travel to Thailand in search of their boss. On the way, Xu is joined by sightseer Wang Bao, who makes a living by selling shallot pies in Beijing. Xu and Wang eventually forms a team called Thailand Legend, utilizing various forms of transport such as planes, trains, motorbikes and elephants while encountering ladyboys, cobras and gangs along the way.
With more than 80 percent of its scenes set in Thailand, the country's tourism has experienced a boom since the movie's release. Zha Bingna, Director of the Kunming Office for the Tourism Authority of Thailand, said the film includes tourist spots, which have enticed a first hand look.
Why so successful?
The movie sees the debut of Xu Zheng as both character Xu Lang and director.
Some have attributed the film's luck to timing. It hit the screen when Life of Pi entered its third week, Back to 1942 and The Last Supper their second and when Chinese Zodiac 12 as well as The Last Tycoon were still one week away.
Another important reason concerns favorable audience response, with word-of-mouth having done much to promote the film.
Director Xu Zheng said his film has managed to satisfy a wide spread thirst for comedy amid a slew of more serious films. Back to 1942 features the Henan Province famine that killed up to 3 million people; The Last Supper concerns epic drama set at the beginning of the Han Dynasty (202B.C.-A.D.220) while The Last Tycoon stars Chow Yun-fat as a gangster in Japanese-occupied Shanghai during the 1930s.