A SWEETER LIFE: Shoppers select candies in a supermarket in Hohhot, Inner Mongolia Autonomous Region, on November 12, 2012. Urban residents' per-capita disposable income in the region grew by 14.2 percent year on year for the first three quarters of 2012 (ZHAO TINGTING)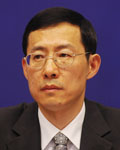 The report to the 18th National Congress of the Communist Party of China (CPC), which outlines the country's development roadmap for the next five years, states that China's GDP and per-capita income for both urban and rural residents will double between 2010 and 2020. This goal has been widely discussed among the public since its announcement. Zheng Jingping, CIO with the National Bureau of Statistics, explains the plan's meaning and feasibility in detail in a January 14 essay in Study Times, a newspaper published by the Party School of the CPC Central Committee. Excerpts are as follows:
The plan to double income has at least four major implications.
First, the doubling of resident income refers to real growth at constant prices, so concerns about inflation consuming income growth are unwarranted.
Second, if the plan is realized, China's GDP, and per-capita disposable income for urban residents and per-capita net income for rural residents will reach 80.3 trillion yuan ($12.95 trillion), 38,218 yuan ($6,164) and 11,838 yuan ($1,909), respectively, by 2020. That requires the average annual growth rates for these three figures to stand at 6.86 percent, 6.86 percent and 6.3 percent, respectively.
Third, as the economic growth rate slows in the United States, the largest economy in the world, China's share of global GDP and average income level will rank higher in the world by 2020.
Fourth, the resident income will account for a larger share of China's GDP if the plan succeeds. Since China's population grows every year, if the average per-capita income doubles, the total resident income will have to grow by an extra 4.6 percent based on an annual natural population growth of 0.45 percent to offset the population growth. That means the proportion of resident income against GDP has to be raised by at least 4.6 percent.
The "income doubling" plan was set on both a positive and prudent note. Achieving this goal requires enormous efforts that go against expectations. After sustaining rapid growth at an average annual rate of 9.9 percent for more than three decades, China's economy faces profound changes in internal and external environments and increasing constraints and challenges.
First, the international economic environment is worse than it was 10 years ago. The world economy will continue to see low growth amid possible fluctuations for the next five years or longer. In the short term, there are risks caused by European sovereign debt crisis, the "fiscal cliff" in the United States, the slowdown of economic growth in emerging economies and the unclear future of de-leveraging efforts carried out by governments, families, banks and enterprises in the West. In the middle and long term, it will take a long time for the world economy to fully recover after a major crisis, for faulty systems to be fixed, for the establishment of a new global economic order, for the materialization of innovations in theories and technologies and for the reform of public spending policies to cope with population aging.
Second, China's economic growth is further restrained by environmental factors as well as energy and labor shortages. China's reliance on imported energy and minerals has risen for many years and is as high as 50 percent for some items. Meanwhile, China faces the problems of worsening soil, water and air pollution. The emissions of major pollutants in China have exceeded the capacity of ecosystems. Moreover, China's vast labor pool is shrinking. The proportion of the working-age population (between ages 15 and 64) against the total population dropped to 74.43 percent in 2011, 0.1 percentage point lower than the previous year. Despite the minimal difference, it was the first time in many years that this ratio went down.