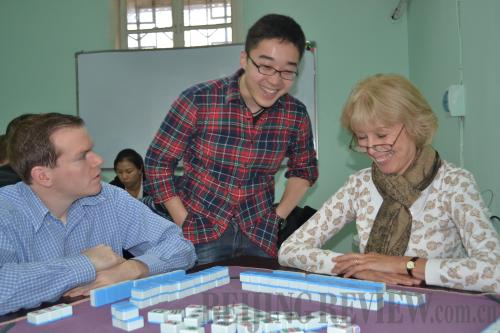 VICTORY: Christine Morris shows Yu Yan (standing) her winning hand (LIU JIAN)
Christina Água-Mel is focused on her next move. "If you play fast, you have to keep thinking and make quick decisions, and that makes the game more challenging," she said.
The game Água-Mel—an instructor at the University of International Business and Economics in Beijing—is referring to is mahjong, a traditional four-player game using a board and rectangular tiles containing Chinese characters.
Few games are as popular in China as mahjong, attracting players ranging in age from 20 to over 80. Today, the favorite pastime of Chinese natives is also finding a following in the country's expat communities.
Every Sunday, about a dozen foreigners take classes to learn the rules and strategies of the game at Beijing's Culture Yard, a language and culture club nestled in a shaded alleyway in the city's east end.
A mind game
Culture Yard hosts workshops in English for mahjong beginners. Participants advance from the beginner to intermediate levels in two weeks, according to Ilya Cheremnikh, an Israeli who set up the club three years ago.
The workshops are divided into two sessions. In the first two hours of the introductory course, the teacher gives a slideshow explaining the basic rules, history and symbolism of the game. The following session tests the beginners' skills as they go to a neighborhood mahjong hotspot to play with local Beijingers. The participants sit in front of mahjong blocks and listen carefully, trying to take in all the rules.
"The basic rules are easy to learn. The key is to make complicated rules simple and easy for participants to grasp," said Yu Yan, a 29-year-old who has taught mahjong to over 150 foreigners so far.
After taking a seat, shuffling the tiles and stacking them into 17 blocks, players throw a dice to decide who will be dealer, and which direction to take when picking the blocks. After the game starts, each player takes turns picking up and discarding. In turn, players draw and discard tiles until they complete a winning hand using a 14th drawn tile to form four sets and a pair of "eyes," which means two identical tiles.
"With a little bit of skillful tactics and, of course, a bit of luck, a four-player mahjong game is never dull," Yu said.
Playing mahjong demands analytical thinking. "At some point in the game, a player has to adopt a certain strategy, yet be willing to change it later on in response to an opponent's moves," he said.
"Rather than playing with a formula, one has to try new things all the time. Every time you choose a piece, you have to make a new decision, and the decision can be right or wrong. It's about combination and probability," Água-Mel said.
Água-Mel feels the huge variety of possible combinations in mahjong keeps the game interesting. "It's an exciting game. You can play for five, six or seven hours and never feel bored," she said.
For Cheremnikh, who came up with the idea of forming the mahjong workshop, this game represents contemporary Chinese culture.
"Culture is not just about traditions and history, but more about how people live, what people think, do and play," he explained. "I found playing mahjong was a big part of [Chinese] people's lives; it's not just for old people nowadays. It's a kind of game that everyone knows how to play, and also a lot of fun."
Instead of focusing on traditional Chinese things, he opened this mahjong workshop for foreigners to experience contemporary Chinese culture. "Just like visiting the Great Wall or eating Beijing roasted duck, playing mahjong is one of the must-dos for a genuine Beijing experience," he said.
"I want to play with the locals because that's one way to be part of local Chinese life," said Christine Morris, who came from England to teach English in Beijing several years ago.
She explained that the reason she joined the workshop is that she wanted to learn more about Chinese culture. "It's so Chinese. I didn't realize there was so much symbolism. Our teacher introduced us to some of the Chinese philosophies behind the tiles," she said.
According to Yu, originally, the "dragon" tiles are said to have something to do with the Chinese Imperial Examination. The red hongzhong tile refers to passing the examination to clear the way to officialdom, the green facai tile means wealth and prosperity and the white baiban tile symbolizes freedom from corruption.
Communal contest
Many participants also enjoy the social aspect of playing mahjong. Morris learned how to play the game a year ago, but there were few opportunities to play. At the workshop, she found more people who like to play together.
"I learned the basics and the name of the tiles, but I don't have any clever strategy. I just enjoy playing, the social aspect [of the game] and having fun," she said.
Morris also feels that since the game involves four people, it is a more social game than those with only two players. "It brings people together. When playing mahjong, there's a lot of personal communication. Especially when I play with Chinese people, I feel a certain bond between us," said Morris.
Água-Mel values special friendships centered around the mahjong table. "We are from different age groups, working in different places. I'm happy that we have these regular meetings to play mahjong and go for a meal afterward. If not for mahjong, I would not have so many friends," she said.
With its immense popularity all over China, the rules of the game have tended to vary from region to region. Água-Mel lives on campus and she often plays with a couple of retired professors, and sometimes with some of her students, who come from different provinces of China. "Now I've learned all the rules from all the provinces. The learning itself is a lot of fun," she said.
So far, a few hundred foreigners have taken mahjong classes here. As foreigners become more and more interested in Chinese culture, the number of students in the class has grown, said Cheremnikh.
Yet, he feels something is missing in the program. "Now we only teach, but we don't provide many opportunities for practicing, for playing and for fun," he said, adding that he plans to start a mahjong club in the future so fans can play every week.
Email us at: yaobin@bjreview.com