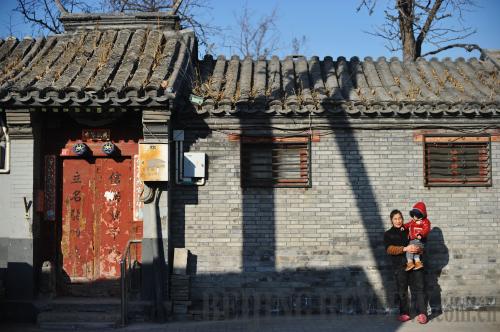 WARM LOVE: A woman takes her grandson for a sun shower against an alley wall on January 6 (WEI YAO)
Dubbed the "best place to see before it's gone" by Time magazine in 2010, the old alleys, or hutongs, and quadrangle courtyards around the Bell and Drum towers of north Beijing will officially undergo a facelift, beginning the end of February this year.
The capital's municipal government has quickened the pace in redeveloping a new middle axle square to the north of the Forbidden City since last December. The project will replace 66 old quadrangle courtyards centered around the Bell and Drum towers, causing 136 families to vacate homes in existence for more than 200 years.
Reconstruction has caused heated debates since first proposed a year ago. Many concerned about preserving the city's old alleys and quadrangle courtyards consider the residences surrounding the two towers part of an integrated architectural complex, worthy of preservation.
The Bell and Drum towers were built during the Yuan Dynasty (1271-1368) and, along with the houses surrounding them, serve as important heritage of the old Beijing. However, following assessment, the municipal government argues that much of the traditional structures have been altered over time, necessitating intervention to return the area to its 300-year-ago state.
Reconstruction has divided local residents into several groups. Some hope to improve their living conditions and move to new apartments as soon as possible. Currently, the average living space per person in the area is no more than 20 square meters. However, old residents are reluctant to leave the houses where they were born and grew up.
A few remain unsatisfied with compensation in view of rising land prices in central Beijing. The government announced a month ago that every single square meter will equate to 45,000 yuan ($7,227). In addition to financial compensation, the state will offer residents 600 affordable apartments at a favorable price of 7,000 yuan ($1,125) per square meter.
Today, most of Beijing's old alleys and quadrangle courtyards have disappeared as the metropolis continues to expand. While many are dedicated to preserving the old areas, some suffer from poor hygiene and fire risk conditions. It is hoped that both the government and public can work together in preserving Beijing's unique architectural heritage alongside urbanization.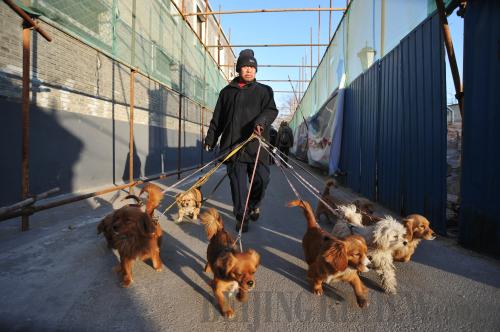 STRETCHING LEGS: A resident living in a courtyard near Houhai in Beijing takes his dogs for a walk on January 8 (WEI YAO)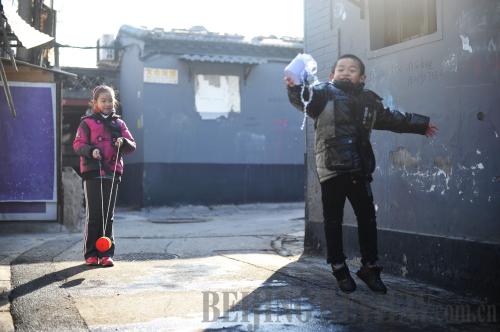 STREETS OF GLEE: Two kids play in an old alley on January 16 (WEI YAO)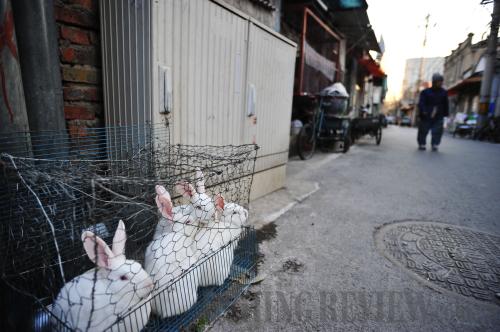 COZY CORNER: Several rabbits are raised in a cage near an alley on January 5 (WEI YAO)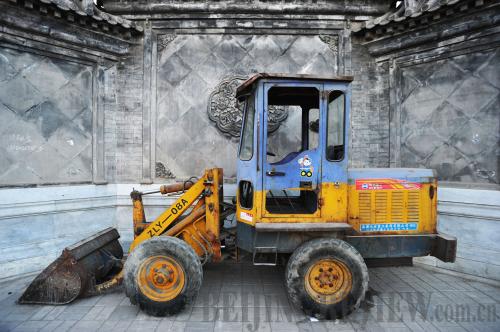 BARE TEETH: A shovelcar parks in an alley on January 8, awaiting the dismantling of old residences (WEI YAO)
CULTURE VS. MODERNITY: A bird's-eye view of old courtyards in Beijing on January 9 (WEI YAO)
Email us at: liuyunyun@bjreview.com