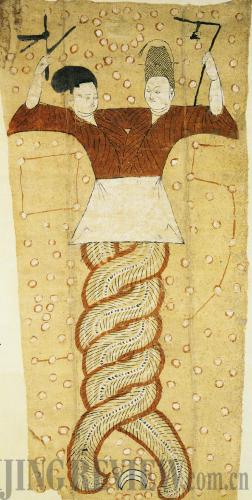 HALF-SNAKE TOTEM: The legendary ancestors of Chinese, Fu Xi (right) and Nu Wa are depicted as human-snake hybrids on a Tang Dynasty (618-907) tomb mural in Xinjiang Uygur Autonomous Region (FILE)
Interestingly, snakes are also closely related to love in local folklore. Evidence of this can be found in the Legend of White Snake. The story, first put down in writing by novelist Feng Menglong (1574-1646) on the base of oral folk materials, depicts a touching love story, full of romance and frustration, between a white snake spirit and a young man.
A boy saved a white snake from the hands of a hunter. A thousand years later, the snake succeeded in becoming immortal and changed its shape into a young lady named Bai Suzhen. She decided to find her benefactor and repay him for his kindness by marrying him. The boy had been reincarnated as a young man called Xu Xian. They met beside the beautiful West Lake in Hangzhou, where they fell in love at first sight. After their subsequent marriage, however, trouble started. In particular, a monk named Fa Hai tried his utmost to disengage the union of snake spirit and man.
Nevertheless, Bai and Xu persisted in their love, for which the former was imprisoned in Leifeng Pagoda while the latter was forced to become a monk. Guanyin, the Goddess of Mercy in heaven, moved by their love and honesty, eventually reunited the couple.
The tale has remained popular in modern times, reworked into movies, TV series, drama, strengthening the image of the snake in Chinese culture where it has become a symbol of bravery and loyalty.
Other local legends depict the animal as clever and steadfast in dealing out revenge to villains.
However, contradictory attitudes exist. Many Chinese dislike and even fear the snake due to its shape and lethal venom. A local idiom even describes a malicious person as having a heart of vipers.
The creatures are often described as crafty and insidious. The story of the Farmer and the Snake from Aesop's Fables, reminds people not to show mercy on frozen snakes to avoid being bitten when the animals rejuvenate.
According to China's lunar calendar, the 2013 spring began on February 4, which was still part of the Year of the Dragon. This means there is no lunar spring beginning in the Year of Snake, which some believe to be a bad omen for weddings and births.
Yu Zhiqiu, an astronomer at the Chinese Astronomical Society, explains that the lunar calendar is not as regular as the Gregorian one and the first day of spring changes every year. However, "It has no relation to good or bad luck," he said.
As time passes, the cultural implications of the snake has weakened among Chinese with the diversification of modern lifestyles, with many regarding the zodiac as merely an interesting cultural symbol. However, the traditional festival remains the largest national celebration.
Email us at: baishi@bjreview.com