A Farmer Happy With Life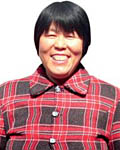 Chen Zuorong, born 1965
Chen Zuorong has been doing farm work her whole life, but she isn't complaining.
The 48-year-old woman of Beibaozhuang Village in Zibo, in Shandong Province, is satisfied with her life.
In the past 12 years, Chen has brought up three daughters—the youngest of whom began university last year—and transformed her old dilapidated house with a new kitchen, three bedrooms and a new living room.
Chen's husband works with a township tobacco company and earns a monthly salary of 2,000 yuan ($321). Chen herself grows 1 mu—or roughly one sixth of an acre—of peach trees, 2 mu of corn and 1 mu of cotton and herbs. She earns around 4,000 yuan ($642) a year by selling peaches and herbs, and the corn she grows can feed her whole family.
In Chen's village, women of her age do farmwork at home while their husbands find work in the cities, mostly as construction workers with a salary of 80 to 90 yuan (about $13) a day. The husbands return to help their wives pick peaches during the harvest season.
"I have a lot of freedom. I do farmwork when I want to, and when I am tired I rest at home," Chen said.
With roughly half of China's population living in the countryside, the government has been paying increasing attention to the social welfare of rural residents in recent years.
Thanks to a pension scheme implemented a few years ago, Chen now pays 300 yuan ($48) a year as a contribution and will receive a monthly pension after she turns 60.
"I feel happy because I will be paid a monthly pension like a retiree in the city," Chen said.
In the past, farmers were responsible for their own medical expenses. If a family member became seriously ill, the cost of receiving life-saving treatment could bankrupt an entire family. Now a medical insurance scheme is taking hold in rural areas, with the government's share of covering medical costs increasing every year.
Chen pays an 80-yuan ($13) annual contribution to a healthcare insurance plan that covers more than 50 percent of her medical expenses. Official statistics show that the number of people covered by the rural insurance program skyrocketed from 80 million in 2003 to nearly 900 million in 2012.
Talking of the future, Chen said she has no plans to leave the farm.
"A farmer only retires when she grows too old to do the work."