Where's the Future Headed?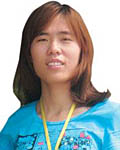 Ji Li, born 1989
Ji Li's view of the future can be summarized in a word that captures the sentiment felt by many young people of her generation: uncertain.
Ji's life in China's highly competitive job market isn't off to a great start, either. After failing the university entrance exam—a mandatory test required for those who wish to attend university—Ji's hopes of becoming a doctor were dashed.
"After failing the exam, I felt so bad that I cried very often," Ji, 24, recalled.
Ji now works at a pharmaceutical factory in Yiyuan County in Shandong Province. Factory work is a fate young people try to avoid, not wanting to work the long, monotonous hours their parents endured. She works six to eight hours a day, seven days a week. She receives double pay on weekends and triple pay on holidays. She can ask for sick leave, but those days are unpaid—and 15 yuan ($2.41) is deducted from her salary each day. Her monthly salary amounts to a little more than 2,000 yuan ($321) after tax.
During last year's Spring Festival she gave her parents her entire year-end bonus, equivalent to one month's wage. "They have worked hard on the farm all their lives to bring me up. I should be thankful," Ji said.
In China, young people from rural areas who work in cities not only have to support themselves but also their parents and grandparents, who earn a meager income and won't receive a pension until the age of 60.
Given her daily work schedule, leisure is often lacking. "I don't do anything fun. I do the same work every day. I only have fun when I go out to eat and sing karaoke with my colleagues, and that's only once or twice a year."
Ji isn't too hopeful about the future either, and like many young people who lack a university education, her employment choices are limited.
"I don't want to do this mechanical job all my life. I just don't know what I can do to make my life more meaningful. Maybe I'll just wait and see."