The Other Side of an Ambitious Business Woman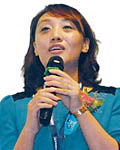 Wang Wei, born 1977
Already a successful business woman—with the tenacity of a snake to boot—Wang Wei thinks it may be time to focus on her family.
Over the past 12 years, Wang, a Beijing native, went from a business consultant to a CEO of a hi-tech company, but considers having given birth to a daughter more than a year ago her biggest success.
"No matter how accomplished a woman is in her career, having a baby is the biggest achievement," Wang, says. "My daughter has made my life more meaningful."
Women like Wang are part of a new trend in China. Having received a higher education, women are no longer satisfied with being traditional housewives. In a male-centric China, many of these women defy the odds and become heads of companies.
But like Wang, many career women still want to start a family, although doing so could be a professional setback. In China, an intention to marry signals an intention to have a child, something undesirable in the eyes of some employers, pressuring many young women to hide the fact they may be married or plan on getting hitched.
"People knew I was married only after I became pregnant," Wang said.
Today, Wang's wish is to spend more time with her family and plans on retiring in the next five to 10 years to focus on her daughter.
"Since I have brought her to this world, I should be responsible for educating her and bringing her up."
The Characteristics of People Born in the Year of the Snake
The snake is said to be the most indomitable animal in the Chinese zodiac, because of its longevity and "rebirth" through the shedding of skin. This trait represents strong vitality and mystery. People born in the Year of Snake may have the same characteristics as the snake, and are likely to achieve success in careers and gain good fortune in life.
In addition, it is believed that people born in the spring or summer of the Year of Snake are energetic and vigorous, while those born in late autumn or winter are relatively quiet and introverted in accordance with the hibernation habits of the creature.
Email us at: jijing@bjreview.com