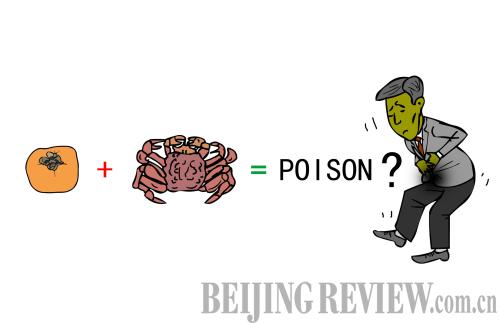 (LI SHIGONG)
Chinese people always pay considerable attention to a well-matched diet. Perhaps what they didn't know was that combining certain ingredients could be hazardous on their health.
An online survey shows that as many as 61.7 percent of participants deeply believe in a so-called theory by which food such as crab and persimmon cannot be eaten together due to a poisonous chemical reaction. However, few have experienced the unhealthy outcome of an ill-matched meal.
The theory has a solid foundation in traditional Chinese culture. Zhang Zhongjing (159-219), an herbal scientist during the Eastern Han Dynasty (25-220), wrote a book called Synopsis of Golden Chamber in which he warns that 48 food ingredients, including crab and persimmon, green onion and honey, soft-shelled turtle and amaranth, cannot be combined for consumption.
His advice makes sense in line with traditional Chinese medicine which views crab and persimmon as cold-property ingredients. In terms of nutrition, crab contains protein while persimmon carries tannic acid that in combination is hard to digest and can result in vomiting, a stomachache and diarrhea.
Interestingly, the 2008 thriller Deadly Delicious depicts a wife, familiar with the toxic results of mixing certain ingredients, who murders her disloyal husband by feeding him ill-matched meals containing shrimp and Vitamin C that supposedly combine into arsenic.
The movie was adapted from a novel of the same title authored by Shu Qiao, an MA scholar in medical history and current food columnist. She told the press at the movie premiere that her inspiration came from ancient Chinese herbal medicine books that included chapters on the theory.