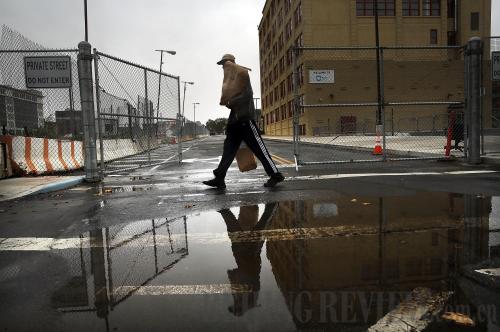 WAITING TO BE TAPPED: A man walks by part of the development site known as the Atlantic Yards in Brooklyn in New York City on October 11 (GETTY IMAGES)
China's real estate heavyweight Greenland Group is preparing to invest in a high-profile Atlantic Yards apartment project in Brooklyn, New York. With a total investment of $5 billion, the project, the biggest property project in the city for the past two decades, will be the biggest investment from a Chinese developer in the United States if finalized.
On October 3, Greenland signed a memorandum of understanding with Brooklyn-based Forest City Ratner Companies for a proposed joint venture to develop the Atlantic Yards project. Under the proposed joint venture, Greenland Group would acquire 70 percent of the project.
The Atlantic Yards project is a 64,500-square-meter residential and commercial urban complex comprised of 15 high-rise buildings. Construction on the project started five years ago, but local developers have struggled with delays and higher-than-expected costs after the financial crisis caused market turmoil.
Zhang Yuliang, Chairman and President of Greenland Group, said his company participated in the project for a foreseeable promising U.S. real estate market. "The U.S. economy is recovering, with sufficient liquidity, stable return and upbeat prospects for the country's property market," he said.
Established in 1992, Greenland is a Shanghai-based state-owned conglomerate. In 2012, Greenland Group ranked 359th among Fortune magazine's list of the Top 500 global enterprises, 73rd among Top 500 Chinese companies, and number one among Chinese real estate enterprises. With 235 billion yuan ($38.56 billion) in total assets, the company achieved revenues of 245 billion yuan ($40.2 billion) and a total profit of approximately 24 billion yuan ($3.94 billion) in 2012. Having raked in exorbitant profits by real estate development in China, Greenland branched out since 2012 into countries that include South Korea, Australia and Germany.
Greenland Chairman Zhang attributed the company's faster-than-expected global expansion to China's growing economic power and global influence, which has created a good environment for companies that have an eye on the global property market. "On the flip side, many countries and regions have yet to recover from the financial crisis; therefore they strongly welcome Chinese investment. The past several years have been the best time for Chinese companies to go global," he said.
To date, Greenland is negotiating on nearly 10 projects located in the United States, Australia, Thailand and Europe. The company's overseas investment is estimated to be over 10 billion yuan ($1.64 billion) in 2013 and their accumulated overseas investment has reached 20 billion yuan ($3.29 billion). According to a company blueprint, more is yet to be spent on overseas projects in the next two years.
Eyeing foreign markets
Chinese developers view investing in foreign markets as a way of diversifying their portfolios, particularly at a time when concerns of a slowing Chinese economy are high. China's real estate market took off in 1998 after the government privatized home ownership. Over the past 15 years, most Chinese developers have been focused on the domestic market.