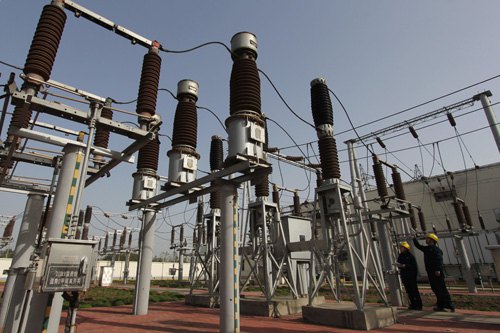 POWERFUL NETWORK: Workers monitor the operation of a power network at an electricity-supply company in Jiaozuo, Henan Province, on November 14. The power sector is one of many that will be opened to private investment in accordance with China's most recent reform plan (XU HONGXING0
China's stock markets rallied in a bullish manner, recently buoyed by a detailed reform blueprint released on November 15. After signing off on a 60-point reform plan—the most sweeping changes to the country's policies in almost three decades—the Third Plenary Session of the 18th Central Committee of the Communist Party of China (CPC) took a pledge to make "decisive" reform plans a reality by 2020.
The plenary session, held in Beijing from November 9-12, produced a 20,000-word document three days later, titled the Decision on Major Issues Concerning Comprehensively Deepening Reforms, explicitly listing 56 tasks in 15 key areas that are in dire need of reform (See articles on pages 26-27 and 28-29 for more).
In fact, an initial communiqué on the reforms was released on November 12, upon the closure of the CPC Central Committee plenary session, but it only contains fundamental principles, while a more detailed and specific plan than initially thought has confirmed the Chinese leadership's commitment to reforms and thereby greatly lifted market sentiment.
Dubbed as the "boldest reforms" since the late Chinese leader Deng Xiaoping set the country on a course of opening up to the world in the late 1970s, this year's plenary session set the target of deepening reform in an all-round manner, suggesting changes will go far beyond the economic sector and cover areas such as the economy, politics, culture, society, ecological environment and Party building.
The detailed plan included giving a greater role to market forces, the transformation of government functions, more responsibilities for state-owned enterprises, further freeing up markets, offering farmers more property rights over the rural collectively owned land, lifting the restrictions on the sale of rural construction land and establishing a universal social security net.
China is on the move to turn reform plans into actions.
An executive meeting of the State Council on November 20, presided over by Premier Li Keqiang, disclosed new measures to further improve the market climate, such as exposing intellectual property rights violations to the public and building a unified property registration system.
The National Development and Reform Commission, China's top economic planner, pledged to open some investment projects in the fields of finance, oil, electricity, railways, telecommunications, resource development and public services for private investment, with further details on related policies and measures to be introduced by the end of 2013.
More policies are expected to come out at the Central Economic Work Conference to be held at the year end.
Experts, however, warned that some of the reform plans require more time for implementation due to stiff resistance from interest groups. They said it will present a tough challenge for China's leaders, who have already set their sights on a new China as they continue to work toward a balance between reform and social stability.
Far-reaching goals
Analysts and commentators from home and abroad spoke highly of the proposed reforms. Yang Weimin, deputy head of the Office of the Central Leading Group on Finance and Economic Affairs, a key economic policymaking institution, said the reform plan approved by Party leaders is unprecedented. Yang participated in the drafting and amendment of the plan.
In the CPC Central Committee's third plenary sessions of the previous three decades, Party leaders normally focused on just one aspect of reform, Yang said.
This time, the reform is comprehensive, covering many sectors. "When reforms have entered a crucial stage—the deep water—we have to push comprehensive changes in order to deepen reforms," he said.
The focus, however, is still on economic changes. "Among the 15 areas that are in need of reforms, six of them are related to the economy. Economic reform is used as an engine for changes in other areas," he said.
This round of comprehensive reforms is guaranteed by the proposal of a central leading reform team. The team will be in charge of designing reforms on a holistic basis—arranging, coordinating, and pushing forward reforms as a whole—as well as supervising the implementation of reform plans.