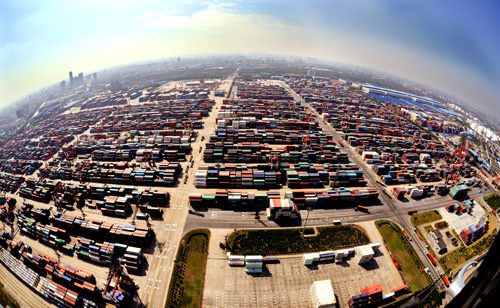 READY FOR TRANSPORT: Containers stacked and waiting at Waigaoqiao Port (FAN JUN)
Walls of red wine are glistening in the sunlight that comes in through the windows. Standing on the wooden shelves spanning several meters, these imported products traveled thousands of miles from France, Spain and Italy to reach the Waigaoqiao International Exhibition and Trading Center of Wine and Beverage in Shanghai.
"All the wines here are duty-free, though they have crossed the border into China," said Huang Quanhua, associate director of the international trade operation department of the center, which was established to bring overseas alcohol into China.
"Located in the free trade zone (FTZ), foreign beverages can be stored, exhibited and traded here without complicated customs formalities. And preferential policies enable businesses to deliver goods in batches and make centralized customs declaration," said Huang.
Launched on September 29, the China (Shanghai) Pilot Free Trade Zone is a test for China's long-awaited economic and financial reforms. Covering an area of 28.78 square km, the FTZ will be built on the basis of Shanghai's existing bonded zones: Waigaoqiao Free Trade Zone, Waigaoqiao Free Trade Logistics Park, Yangshan Free Trade Port Area and Pudong Airport Comprehensive Free Trade Zone.
Favorable policies and a propitious trade environment have greatly sparked entrepreneurship. By the end of November 22, a total of 1,434 enterprises have entered the zone, among which 38 are foreign-funded and 1,396 are domestic enterprises, according to the Administration Committee of China (Shanghai) Pilot Free Trade Zone.
"The scale of newly established business is satisfactory, as the average registration capital for foreign- and domestic-funded enterprises stands at $15 million and 25 million yuan ($4.1 million) respectively," said Ai Baojun, Vice Mayor of Shanghai and director of FTZ's administration committee.
Financial reform
"Aside from the privileges enjoyed by original bonded areas, financial reform is a key focus of the Shanghai FTZ," Huang said, noting that changes in the external payment and foreign exchange management would further push the wine trade in the zone.
On December 2, the People's Bank of China announced detailed reform guidelines to support the Shanghai FTZ. The financial package includes 30 detailed instructions which involve promoting capital account convertibility, expanding cross-border use of the yuan and interest rate liberalization.
The guidelines stipulate that residents in the FTZ will be allowed to open free-trade accounts, which will allow both local and foreign currency transactions, invest in the foreign securities market, and transfer the income earned in the FTZ to offshore accounts. Non-residents will be allowed to open free-trade accounts and engage in various domestic investments.
Cheng Jun, general manager of the corporate banking unit of Bank of China Ltd., pointed out that the establishment of the free-trade account system would create a financial environment which is deeply integrated with the international financial market and insulated from the domestic areas, and can better serve foreign-related business.
"The most significant change is that the residents in the FTZ will be permitted to make securities investment in overseas market, which means individuals there will no longer be restricted by the system of Qualified Domestic Institutional Investor," noted Lu Zhengwei, chief economist of Industrial Bank.
According to the guidelines, enterprises in the FTZ will be allowed to issue yuan-denominated bonds in the onshore market. "That will transfer some dim sum bonds (bonds issued outside China but denominated in Chinese yuan) from Hong Kong to Shanghai," said Lu.
Besides, corporations, non-banking financial institutions and other organizations registered in the FTZ will be allowed to borrow offshore funds, which are much cheaper than onshore funds.
In terms of advancing interest rate liberalization, the guidelines suggest that measures will be taken to improve the pricing and monitoring mechanism of local and foreign currency transactions in the free-trade accounts for residents and non-residents; qualified financial institutions in the FTZ will be allowed to issue negotiable certificates of deposit; and when the time is ripe, the cap on the interest rate for small foreign currency deposits will be lifted.