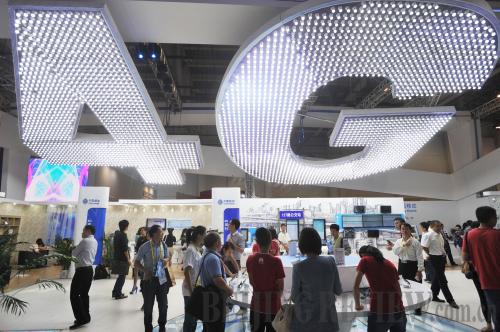 A CONNECTED WORLD: 4G mobile Internet services receive extensive attention at the Sixth Cross-Straits Cultural Industries Fair, held from October 25 to 28 in Xiamen, southeast China's Fujian Province (WEI YAO)
The Ministry of Industry and Information Technology (MIIT) on December 4 issued 4G licenses to the country's three telecom operators—China Mobile, China Unicom and China Telecom.
They will adopt China's homegrown 4G technology, Time-Division Long-Term Evolution (TD-LTE). The MIIT said it will also issue licenses for Frequency-Division Duplex LTE (FDD-LTE) when the time is ripe.
As far as consumers are concerned, the 4G network will bring faster mobile Internet speed, which can be up to 10 times faster than the 3G network, more high-definition videos and more applications. In the 4G era, both foreign and domestic telecom equipment providers will see more business opportunities and a rise in profitability, while the economy will find new growth points.
Lucrative profits
Among the three major telecom operators, China Mobile has taken the lead in the 4G field. The telecom giant has invested 41.7 billion yuan ($6.87 billion) in over 100 cities and plans to expand the 4G network coverage to more than 300 cities.
Hu Ying, an analyst from Hongyuan Securities, believes the issuance of 4G licenses means large-scale network construction will start in 2014. Both China Mobile and China Telecom intend to spend 45 billion yuan ($7.41 billion) on building their 4G networks, while China Unicom plans to spend 10 billion yuan ($1.65 billion). It will take three to five years to put the 4G infrastructure in place, and the total investment scale can be as high as 500 billion yuan ($82.35 billion) to 1 trillion yuan ($164.7 billion).
In the process, telecom operators will have to purchase large amounts of network devices, and cellphone terminals will need to be upgraded and renewed. With faster mobile Internet speed, software enterprises will be propelled to develop more quality application programs, which will push the development of the entire telecom industry.
"The 4G network will drive terminal and chip manufacturing, and software development," said Liu Cheng, a professor at the School of Economics and Management of the University of Science and Technology Beijing. "Companies engaged in telecom value-added services and information technology will become the largest beneficiaries."
Liu noted that in the first three years after the 3G network was popularized, it generated investments of 455.6 billion yuan ($75.04 billion), terminal services of 355.8 billion yuan ($58.6 billion) and 1.23 million jobs.
ZTE and Huawei, China's two largest multinational telecom equipment makers, will be the first to benefit from the rollout. ZTE's strong service team and rich overseas experience will help in winning 4G business. The company is capable of providing 4G solutions ranging from wireless access, core networks, terminals and chips to business platforms and services, especially wireless base stations.
In addition, Cisco and IBM want to have a slice of the 4G cake.
Imminent reshuffle
There are 1.2 billion mobile phones currently in use in China. As Liu estimated, no less than one 10th of the users would use 4G handsets by 2014, which will lead to a reshuffle in the mobile phone manufacturing industry, said Liu.
In the 1990s when the 2G network began to expand in China, Nokia, Motorola and Philips dominated the mobile phone market. Since 2009, when 3G mobile Internet services swept across the country, the big three have quickly lost market to new stars like Samsung, Lenovo, Huawei, Coolpad and Apple.