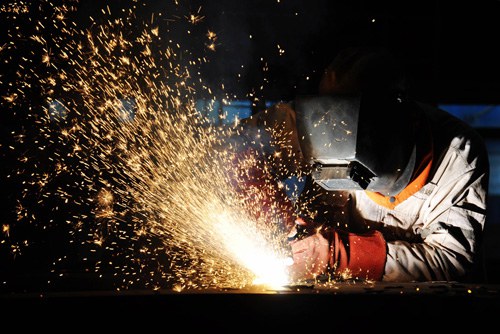 HEATING UP: A worker from the Qingdao subsidiary of the China National Offshore Oil Corp. welds components to a drilling platform on October 27 in Qingdao, Shandong Province (XINHUA)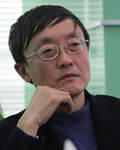 China's gross domestic product (GDP) grew 7.8 percent in the third quarter, 0.3 percentage points higher than in the second quarter. Economic growth rate has been ranging from 7 to 8 percent since the second quarter of 2012. The fourth quarter of 2013 will be no exception.
Therefore, the growth rate floating between 7 to 8 percent is not an accidental phenomenon but a periodical trend for the country.
On the basis of 2013, China's macroeconomic policies will be further optimized in 2014 to ensure economic stability. Meanwhile, deepening reform will gradually root out institutional disadvantages, improve governance and public services and modify the market environment. The launch of more urbanization will further unleash growth potential.
In 2014, the economic growth rate will stay within this range while vital achievements will be made in economic restructuring, institutional improvement and sustainable development. People will reap more benefits from economic development and each percentage point of growth will come with higher quality.
Growth engines
Chinese exports grew 8 percent in the first three quarters of 2013, edging up by 0.6 percentage points from the same period last year. The increase was partially caused by hot money inflows in the disguise of foreign trade settlements. After excluding that factor, exports grew 6 percent in the first quarter, 4 percent in the second and 6 percent in the third. This means the contribution of external demand to China's economic growth has gradually dropped.
The nominal growth rate of retail sales was 12.9 percent in the first three quarters, up 0.2 percentage points from the first half of 2013. Steady consumption growth is a result of the following factors. First, China has a healthy employment situation, which has resulted in stable income growth for residents. Despite a continuous slowdown since 2010, the growth rate has been stable in general and was never below 7 percent. This means no massive layoffs have occurred and the employment situation is similarly stable. Second, a sizzling property market has brought surging sales revenue for downstream sectors, including furnishing, home appliances and decoration materials. Finally, the auto market is bottoming out, with increasing sales for cars and related products. These factors are bound to further support steady consumption growth in China.
Investment grew 20.2 percent nominally in the first three quarters of 2013, up 0.1 percentage point over the first half of 2013. Property investment has stabilized after sliding; growth in infrastructure investment has slowed down slightly; and manufacturing investment is accelerating.
Infrastructure investment and property investment are leading indicators of investment increases that play a dominant role. Since early 2013, infrastructure investment has maintained a high growth rate, despite a slight fall recently. Property investment, affected by sales figures in the real estate market and land supply, has dropped a little, but is generally stable. In all, future investment will consistently increase.
It's reasonable to believe that China's current economic growth is backed by sufficient market demand and can be sustained in the future.
To align with the trend of a slower growth rate in the range of 7-8 percent, a corresponding macroeconomic policy environment was created in 2013, including macro-control targets, more policy stability, no random expansion of fiscal policies and more caution on government-funded projects. The government has more effectively supported economic upgrading and transformation by speeding up investment in areas such as urban infrastructure, energy conservation, emission reduction, information infrastructure and railway network. More efforts have been made to deepen reform, give the market a bigger role in allocating resources and encourage private investment in the above-mentioned areas. Macroeconomic policies are playing a more and more prominent role in supporting economic growth.
A reasonable level
After drastic fluctuations in the initial phase of China's reform and opening up, the country's economic growth has been both fast and stable since the late 1990s and always above 7 percent. This is driven by China's industrialization and urbanization. The reform and opening-up policies have given the market a bigger role in distributing resources, which has greatly improved people's livelihoods and aroused their enthusiasm in starting up businesses, thus further pushing forward industrialization and urbanization.
The vanishing demographic dividend, lower technology innovation capability and mounting challenges from the deteriorating environment are three main reasons for people's concerns over further economic slowdown.
In 2012, China's working-age population stood at 930 million, among which 370 million work in cities and 260 million are migrant workers. These figures show that China doesn't lack manpower. Difficulties in recruiting workers are mainly related to rising living costs in cities which have driven away potential workers. In terms of technology innovation, China is transitioning from simply introducing new technologies to learning, absorbing and then innovating. With an array of policies aimed at supporting technological innovation, China's innovation ability is growing. When it comes to the environment, China has embarked on a sustainable growth path featuring energy saving and environmental protection. Therefore, China's growth potential won't be compromised because of these three problems.
China still has a very high deposit rate. Yuan deposits have exceeded 100 trillion yuan ($16.47 trillion) while individual deposits have surpassed 45 trillion yuan ($7.41 trillion), both higher than fixed-asset investment in the country and offering enough financial guarantees for economic development. Alongside economic upgrading, more potential will be unleashed and the growth rate could potentially increase in the future.
The growth rate slowing to 7-8 percent is beneficial for the virtuous cycle of social production. In 2013, when the economic growth rate was within this range, the employment situation was generally stable, there were no massive shutdowns, and enterprises even gained increasing profits. Despite more difficulties in fiscal revenue and expenditure, the expenditure structure was optimized and the effect of fiscal expenditure was improved. Monetary and financial environment and capital chains were generally stable. Local government debt was in control and the price level was also stable. Meanwhile, progress was made in economic restructuring amid government function transformation, improvement of the business environment, the launch of new urbanization and achievements in energy saving and environment protection.
It can be said that the growth rate between 7 to 8 percent is bearable for residents, companies, the government and society as a whole. It is beneficial for economic upgrade and transformation, a virtuous cycle of economic production and sound economic growth.
The author is a macroeconomic researcher with the Development Research Center of the State Council
Email us at: yushujun@bjreview.com